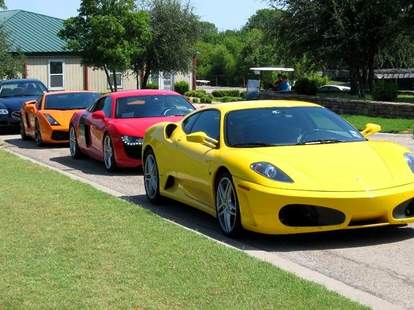 There's nothing wrong with getting a taste of the good life, unless it's the Grammy-winning song, because apparently that involves tasting Kanye West's penis, and rhyming the word "plane" with "plane". For a more pleasant, less repetitive fantasy experience, try DFW Drive Your Dream.
DYD's a master-planned day tour of NTX's winding backways that involves you getting behind the wheel of four of the world's sweetest production vehicles, the latest endeavor of a 30-year auto-preneur who also dabbles in exotic car timeshares & storage, for the man who drops 200K on his ride, and has nothing left for a garage. The star-studded lineup consists of a Ferrari F430, Maserati Quattroporte, Lambo Gallardo, and Audi R8; after getting briefed on each's idiosyncrasies, you'll commence a four-hour-ish rally on a ~150mi, mostly highway-free route designed to showcase the hardware's capabilities, and keep you from wasting precious drive time in the Cracker Barrel gift shop. Participants switch off every 30mins to guarantee ample time in all cars; tours can run west (Weatherford area, Cleburne-Granbury-Glen Rose) or east, via the "Tour de Paris" (guess which Paris), or looping around Lake Ray Roberts (sadly, Lake Julia Roberts is currently seeking harmony in Italy India Bali. Basically wherever there are unreasonably handsome men who find her ravishing.).
Jaunts around Austin, Houston, and San Antonio are in the works, and custom itineraries for bachelor parties, corporate outings, etc., are negotiable; the cars themselves will rotate regularly, with recent roster spots held by a Bentley, an Aston Martin, and an M6 -- but if we're talking about my snake on a plane, it's more like a 9. Just kidding, it's a 3.