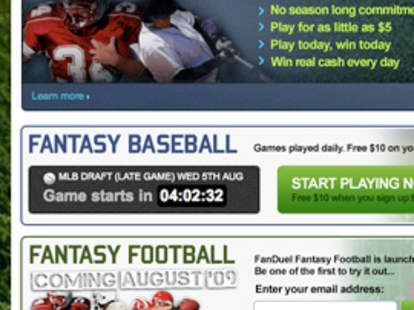 It's galling not to be able to make money off the things you're great at, like cunnilingus, and loudly announcing that you're great at cunnilingus. Make cash off your fantasy sports prowess with FanDuel.com, now in beta.
FanDuel hosts head-to-head, daily/weekly MLB/NBA/NHL/NFL contests that pay an 80% spoil to winners, legal because Uncle Sam considers fantasy sports a skill game; the site was conceived at SXSW by the Brits behind prediction site HubDub.com, who found that sports is a surprisingly more popular soothsaying topic than "What sentence will Sudanese journalist Lubna Hussein receive for wearing pants?". Simply add funds via PayPal or a major CC, then draft starters and backups (position/skill players including key defenders) from a pop-up displaying the most productive players top-to-bottom, plus their that-day opponents; finally, choose an opponent(s), or let FanDuel choose a user for you, be it fartlikeadrianpeterson, or illegaltaco, who might be responsible for Adrian Peterson's gastrointestinal issues. Then, sit back and watch points accrue based on fairly standard fantasy formulas, with winnings auto-transferred to your account within minutes after the last game's over and Jon Gruden has murdered Mike Tirico with his hilariously oversized knife.
FanDuel sports a chat feature to encourage friendly smack-talk, with future plans including higher-stakes games and non-big-4 sports like soccer -- source of puns like "goalie box", "wet pitch", and others employed by boastful men with snake-like, double-jointed jaws.