A career burger-slinger beefs up his old 'hood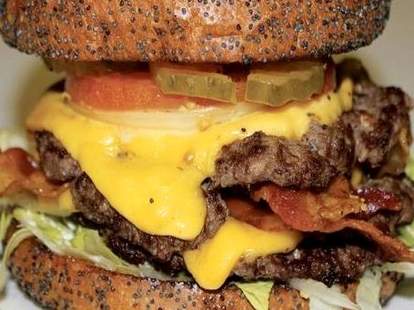 Working for somebody else can be galling -- who are they to keep your talents from shining, or if you're Joe Biden, your teeth? Stepping out into his own gleaming future, the man behind Flaming Burger.
Just east of Jupiter, this stark and purposeful burger joint's run by an area-raised guy who spent a decade learning burger-ing from Jake Keller, first cooking at one of the man's first name-named joints nearby, then stepping up to manage a Lake Highlands outpost until deciding to flee that most rabid urban scourge, wild cats. Served in a cavernous strip space with dueling flat-screens and fluorescent bulbs that seem to fly above you, the no-nonsense "Texas Style" menu's anchored by double-meat flat-grilled burgers served on same-grilled buttered poppy-seed buns, and ranging from the cheese-bacon "Monster", to the Swiss'd "Mushroom Jalapeno", to the Monterey jack, bacon, jalapeno, & spicy mustard "Marko's Special" -- probably not named for NBA journeyman Marko Jeric, because when you travel that much you've got to pack lighter than two patties. Further fatness includes chicken-fried chicken or steak, chili-cheese-drowned dogs and tots, beer-battered onion rings, and breaded/fried "Flaming Jalapeno Bottle Caps" -- eat the last one, and everyone else will be twist off.
For dessert, Flaming offers girth-enhancers like deep-fried cheesecake & chocolate brownie bites. The alcohol situation's blissfully BYOB, so no one can possibly keep your talents from shining -- and that's a big ****ing deal.