Fly Virgin America to California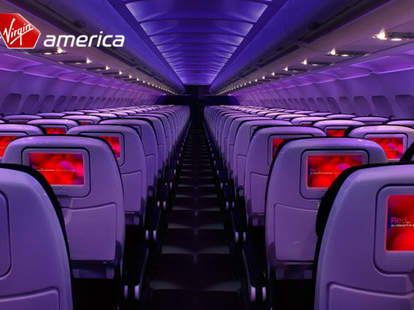 California's always been the geographic focus of the American imagination, whether we were dreaming of streams brimming with gold, or of kitchens brimming with Thai chicken pizza. Now Virgin America's making it easier to live the dream, with direct service from DFW to LAX and SFO.
  That's right, Frequent Traveler Who Deserves More In-flight Perks: this December, Virgin America's launching shockingly affordable direct routes from Dallas to Los Angeles and San Francisco (who we're very angry with right now, but how can you stay mad at a team whose best pitcher looks exactly like Mitch Kramer?). Despite the reasonable fare, you'll be afforded exceptional amenities, including a black leather, headrest-equipped seat, in-flight Internet, 3,000+ MP3s, 25 pay-per-view flicks viewable on a personal 9" screen, a 110v jack for your own devices, and soothing, industry-first mood lighting that'll get you so relaxed you'll...
Hey, wake up. There's more: you can also order drinks and fresh food from your screen via credit card, so you don't have to hit that annoying flight attendant button, or raise your hand like you're in first grade.