The Lombardis enter the meat market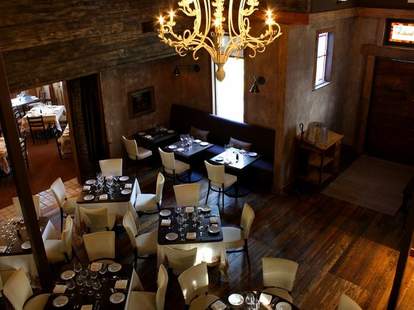 It's fascinating to see how other national traditions shape the same things Americans hold near & dear, like golf in Scotland being played on windswept links courses with a premium put on low shots and keeping your kilt down, because no one wants to grip-n-rip that wood. Get fascinated with the Italian steakhouse at La Fiorentina, opening Wednesday in the old Chip's space.
The Lombardi clan's latest is a dinner-only "Tuscan Steakhouse" whose twin dining areas recreate the rustically intimate feel of Italian meat-eries through earth tones and ancient-looking wood that lend the comforting impression that your meal might've recently been idyllically wandering the front yard; ambiance is rounded out by a semi-open kitchen, wrought iron chandeliers, and a stained-glass "Lombardi's" that survived a fire at their Uptown resto -- a lucky charm, though installation was a...pane in the glass. Served with pasta and site-baked bread, the center-cut, all-natural, DNA-tracked TX beef ranges from a filet (w/ or w/o roasted lobster), to a Chianti-glazed 16oz bone-in rib eye, to the namesake 24oz porterhouse w/ lemon, rosemary, and fagioli all'uccellito (either sauced Tuscan beans, or a Brazilian soccer player who felt there were already too many Ucces). The mesquite-burning oven also turns out not-red meat like Cornish hen al mattone (cooked w/ a brick on top of the bird), roasted wild game (duck, boar, venison), whole fish (branzino, sea bream, sole), and parchment-wrapped snapper w/ clams, peas & tomatoes; there're also rotating seasonal sides like potato gratin w/ prosciutto & bechamel, plus apps including truffle aioli'd beef carpaccio w/ shaved Parm Reggiano -- a sign that Signore October's branching out beyond the "Reggie Bar".
The full bar slings a few bottled beers (including dark and red Birra Moretti) and a mid-priced, ~70-bottle wine docket as well as house cocktails designed by a mixologist in Italy, who draws recipe inspiration from Prohibition -- something that never interrupted Italians' drinking traditions, because unlike 1920s congressmen, they didn't wear skirts.