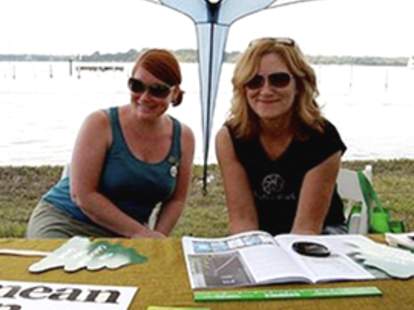 As you grow up, you accumulate so many responsibilities, you soon become too busy to find willing parties to slough them off on. Willing to take all of your housework on their shoulders, Green Machine Cleaning.
Launched by a hyper-organized out-of-work photographer and a graphic designer/neat freak who owns a 10-year-old green Pontiac Aztek, Green Machine's an eco-conscious home-cleaning biz that'll go well beyond grime-fighting to indulge your every listless whim -- basically, they're a full-service laziness concierge, which is...screw it. The basic service involves Machine bringing its arsenal of enviro-friendly cleaning products to your home, then going ballistic: dusting (including baseboards and ceiling fans), vacuuming, mopping, disinfecting, disposing of refuse, doing windows, crushing cobwebs, and making your bed (also shamefully covered in cobwebs). The above-and-beyond includes laundry & dishes, dry cleaning pick-up/delivery, groceries & other shopping, walking your pet, and even house and pet sitting, saving your dog from a disorienting kennel stay, or you from having to dig another hole in the backyard.
If your place needs more than cleaning, Machine will even play interior designer by organizing cabinets/closets, or rearranging entire rooms, leaving you enough time to ferret out someone who'll be responsible for paying them.