Chicago dogs in Deep Ellum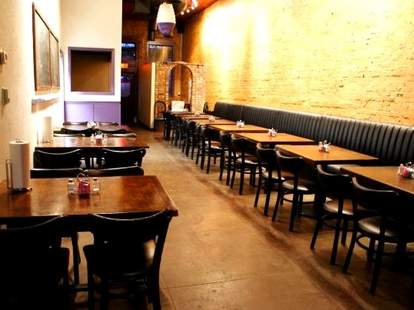 Underneath that thick-witted Midwestern demeanor, Chicagoans are actually mad scheming geniuses...at delicious ways to get fat. Bringing that genius to Deep Ellum, Gryllidae on Elm.
The longtime dream of the owner's late wife, Gryllidae is an exposed-brick Chicago-style deli slathered in purple (her favorite color) and bookended by a big-screened front room whose French doors open to sidewalk seating, and a trellis-shaded back patio split by a flower garden -- which, like all gardens, can magically disappear if you utter the magic word, "biodegradable". The menu, fueled by twice-weekly delivered Chi Town ingredients, starts with Gonella poppy seed-bunned Vienna dogs, from Chi-style (chopped onions/tomatoes/sport peppers/celery/mustard/neon green relish/pickle spear) to the "Fried Slaw Dog"; gorge-ous sandwiches include the sweet/spicy pepper au jus'd Italian Beef, the smoked turkey/Gouda "Harry Caray", and the grilled onion-packed, pastrami/Swiss/pepperoncini "L Train", sure to clear a DART seat for both you and your breath. Other offerings: shoestring & chili-cheese fries, house-battered fried pickles, and breakfasts (egg combos, pancakes, fried bologna sandwiches) served any time, because why should the most important meal of the day only be available while you're asleep?
On Fri-Sat, Gryllidae will stay open until 5am; after the liquor license arrives, it'll offer eight Texas-heavy taps (seasonal Shiner, Rahr Ugly Pug...), plus bottles from Newcastle to Kona -- made with real Kona coffee, proving that Hawaiians are mad scheming geniuses at keeping you awake to drink more beer.