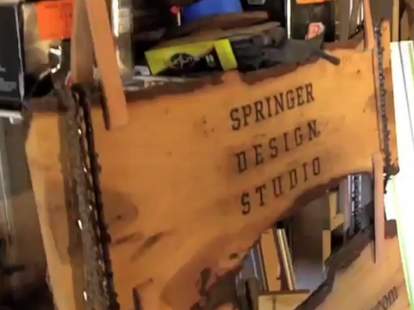 They say one man's trash is another's treasure, though if you leave Alice Cooper's 1989 comeback album Trash on a busy sidewalk, it will probably still be there the next day. Turning the discarded into something wonderful, Springer Design Studio
Based in the Fair Park area, Springer's run by an NY expat out to salvage as much quality tree product as he can to turn into custom-designed, hand-fabricated anything, from tables to utensils; before moving here last year with his Dallas-bred wife, the RISD grad woodworked in Philly and NYC, and apprenticed with artists Christo and Jeanne Claude, who made a Double Impact on his career. Damme that was bad! The man's constantly looking for felled trees, trashed fencing, 86'd furniture, etc., and bolsters his raw material through a network of tipsters and random solicitations; if it's workable, he'll haul it off, then clean, condition, and dry-age it, because unlike with octogenarians and nerds, in carpentry dry-aged wood is the best. His main thing's furniture, such as a 10ft dining-room table made from a client's pecan tree, a trolley car seat-turned-dining room bench thanks to re-tasked oak, a series of hand-carved stump benches & stools, and a mid-century-style sofa out of kiln-prepped walnut, a stylish place to rest your own hot nuts.
To minimize his own material waste, Springer also produces smaller household items, from half-stump clocks to chopsticks, serving spoons, and cutting boards; he also dabbles in sculpture, and's even crafted a bicycle -- which, despite being functional, will probably still deposit you on the sidewalk, where you'll still remain unclaimed the next day.