Holy objects can sit idle for years, then return to action: Excalibur was stuck in a stone awaiting the man who would be king, and the Ark of the Covenant was buried in a cave, awaiting the man who would marry Calista Flockhart, and get an earring. Dusting off a holy object to sizzle some beef, Maple & Motor Burgers & Beer

Opened right near UT-Southwestern in a long-vacant 50s-era service station, M&M's a few-frills joint whose meaty power derives from a flat-top stove in service for 30+ years at long-gone Doc's in Vernon, where it'd been garaged for nearly a decade; the owner's a Landry's/Chamberlain's/Mi Piaci vet-turned-medical software specialist, and the day waitress is actually the Urology Dept Chair's wife (so don't shaft her on the tip). The foundation's half-lb hand-pounded US-beef patties & grill-seared buns, with standard fixins augmented by the likes of bacon, jalapenos, fried eggs, and Texas chili packed w/ brisket flat; the leaner point meat goes into the Flat-Top Brisket Sandwich, for which the barbecue's sliced & seared to crispness then soaked in mayo -- only legal if you're within a few hundred feet of a medical school. Less beefy, still-artery-gunking eats include the fried bologna sandwich (quarter inch-thick slice served "Cincinnati Style" w/ lettuce/tomato/mayo or "Cowboy Style" w/ chili/cheese/chopped onion), two chicken options (salt-&-pepper-battered tenders; seasoned-&-sizzled filet), fries/tots/o-rings (the first two available blanketed w/ cheddar/bacon/jalapenos), and a grilled cheese sandwich "for those born with grinding teeth only" (so, for lactose-tolerant spawn of incest)

Once the beer license arrives, M&M will offer mostly big domestics, both in house & to go; for now though, you get two beers free with your meal -- encouraging you to sit idly longer, despite the next party's wish that you'd get the Flock out.
Recommended Video
Mini Chicken Pot Pies: Big Homestyle Flavor, Endearingly Tiny Portion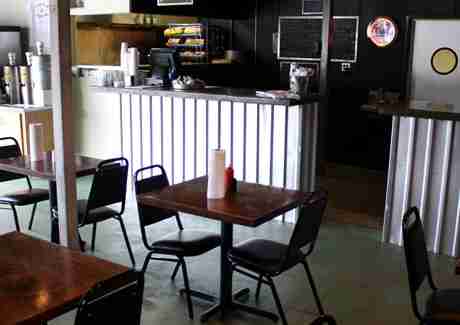 Previous Venue
Next Venue
Venue Description
1. Maple & Motor Burgers & Beer
4810 Maple Ave, Dallas, TX 75219
Known for celebrating "low class cool," Maple and Motor distills American comfort cuisine into a ten-item food menu comprised of burgers and sandwiches built upon foundations of bologna, brisket, and bacon. The burger is the menu's gem; it's a half-pound of ground beef flat grilled in its own juices, dressed in traditional Texas fashion with mustard, lettuce, red onion, and a dill pickle. Add a side of beer-battered onion rings and a brew, and you're set. The space is bare bones-cool, with a few black leather booths and photographs in simple black frames lining the walls. The Maple and Motor team doesn't pretend to be anything other than red meat-loving Americans and we dig it.