Meat Loaf's stepdaughter Pearl opens up for the old man's return home tonight at HOB, touring in support of her first solo album after years spent singing backup for 'loaf and Motley Crue. She'll be belting out subtle numbers like "Rock Child", "Love Pyre", and "Whore" backed by husband Scott Ian from Anthrax, a.k.a., "Beard out of Hell".
Recommended Video
Proof That Iceland's Ring Road Is the World's Most Beautiful Road Trip
Previous Venue
Next Venue
Venue Description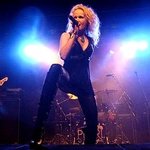 1. Meatloaf Has a Daughter?
2200 N Lamar St, Dallas, TX 75202
Meat Loaf's stepdaughter Pearl opens up for the old man's return home tonight at HOB, touring in support of her first solo album after years spent singing backup for 'loaf and Motley Crue. She'll be belting out subtle numbers like "Rock Child", "Lov