It takes genius to see possibility where others see a void, like Bugsy Siegel with Vegas, or Alan Parker with Bugsy Malone (who's laughing now, critics-who-said-a-musical-starring-Scott Baio-as-Prohibition-era-gangster-would-be-quickly-forgotten?). Seeing possibility in the Design District, the man behind the Meddlesome Moth

Moth's from a Flying Saucer co-founder who felt the nightlife wasteland would instantly take to a classic-but-irreverent Brit-style gastropub, a bet he's ensuring with a stunning chalkboard-topped bar, "The Trinity" (the Hard Rock's original Chuck Berry/Elvis/Jerry Lee Lewis stained-glass panels, mounted at imposing 45-degree angles), a nude-wood-tabled patio, and a bathroom sporting vintage Big D strip club posters (e.g., "Conventioneers: don't miss Chris Colt, the girl with the .45s!"). Designed by an ex-Oceanaire chef, the use-the-whole-animal menu's highlighted by 5 mussel options (from red chile Diablo to chorizo Catalan), chicken/rabbit/lamb pies, vanilla-porter beef shin w/ walnuts & brie, sweet onion gravy buffalo sausage, and Blackstrap-glazed "Five Spice Pork Belly", which you should enjoy now, before Pigtoria Beckham quits. For the discriminating thirst, the nickel-backed tap row's overseen by two of Texas' four accredited cicerones (beer sommeliers), with choices ranging from Well's Bombardier, Ska Modus Hoperandi, and Sunner Koelsch to Belgium's Blanche de Bruxelles and Saison Dupont; there are also 80 bottles (wood-aged Dogfish Palo Santo, Avery Hog Heaven barleywine ...), plus cask ales from Franconia, Rahr, and 512 -- an area code as yet un-graced by Ludacris' big-ass sack of condoms.

The Moth's also slinging 10-12 classic cocktails like the Vesper, the Sazerac, and the Dark & Stormy, all of which will fill the void of your confidence, and turn you into the Entertainment Capital of the World.
Recommended Video
This Fried Chicken Sandwich With Sushi Rice Buns Is the Best of Both Worlds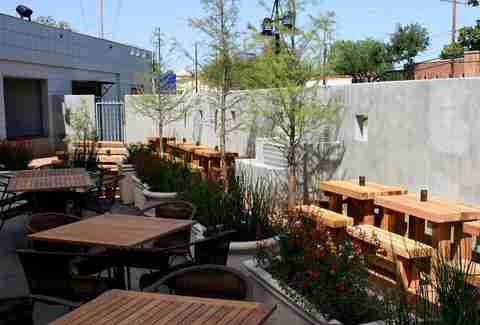 Previous Venue
Next Venue
Venue Description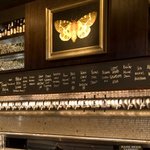 1. The Meddlesome Moth
1621 Oak Lawn Ave, Dallas, TX 75207
Founded by the guy who brought you Addison's Flying Saucer, The Meddlesome Moth offers up a similar gastropub vibe with a little more class (see: plentiful leather booths, polished red wood trim and suspended strained-glass portraits of Jerry Lee Lewis, Chuck Berry and Elvis). Dine here any time of the day from the brunch, lunch or dinner menu (go for the eggs creole benedict, the dogfish head bratwurst or the grass-fed chuck burger) but don't miss out on the 40-draught and 85-bottle beer selection.