Gastropub finds manifest destiny on western Davis Street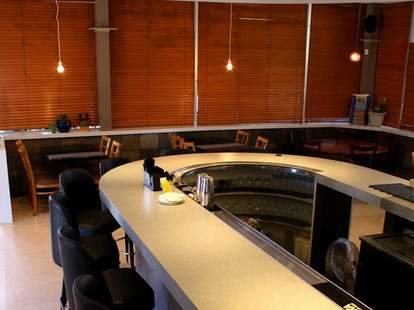 American dreamers have always looked westward, until DJ Kidd Kraddick came along and people were instructed to keep looking up -- because hey, starving pioneers, that's where it all is. Taking Bishop Arts' action westward ho, Nova.
Open quietly in Kavala's old converted-Dairy Queen digs by a cadre of drink-y restaurateurs (The Quinn, Green Room, Libertine Bar, Bolla...), Nova aims to be an anchor hangout for the Davis Street strip's western edge, with a nondescript exterior hiding mod Atomic-era innards dominated by a sleek brushed metal-trimmed J-shaped bar, diner-style booths sheathed in seafoam-green vinyl, and a bar-height, Lazy Susan-equipped corner table lit by a vintage chrome "starburst" chandelier -- less delicious than sour fruits, but easier to read Highlights by. Designed by an up-and-coming Mansion, Hattie's, and Kavala vet, the rotating menu's kicking off with his signature brick oven pizzas like the four-cheese, Jimmy's sausage/hamburger/sopressata/pepperoni "Four Meat Pie", plus apps like sauvignon blanc steamed mussels (w/ oranges & chorizo) and mains like a Vietnamese-style NY strip and fruit salsa-sided Jamaican beer can chicken, whose jerk spice will turn your tongue into a Red Stripe. By August, the full menu will come on-line, from starters like smoked bbq flautas and spicy Moroccan meatballs w/ minted mango couscous, to entrees like wine-tomato-gravy-smothered braised oxtails on parm'd polenta, and Moroccan meatball tajine on couscous spiked with golden raisins, two scoops of which would be all it'd take for that sunglass'd Sun dude to buy Morocco.
In keeping with the Unicard Code, the bar is starting off basic (a dozen wines, 8 bottled beers from basics to Spaten Dunkel, simple mixed drinks), but as members increase they'll move up to signature cocktails, around 50 wines, and 10 taps of cold, delicious beer -- sustenance for another class of American dreamer, the kind whose looks only head south.