Soccer, street food, shots, y mas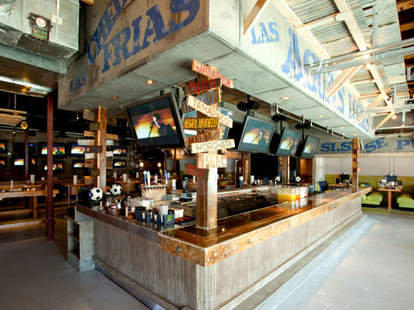 No place on Earth's more passionate about soccer than Latin America -- for proof, just ask that Colombian guy. Or don't. Bringing that passion to DFW: Ojos Locos.
Just soft-opened (grand opening's March 6) by the Twin Peaks guys, Locos is a ramshackle-industrial, monitor-mottled sports bar aiming to be a Hooters for Latin American soccer nuts, with tasty waitresses, lime-green booths, and a corrugated steel-capped island bar where direction signs promote beer consumption (if you'd get lost without them...you're already there). The menu emphasizes hand-held eats, such as beef/pork/chicken/seafood soft tacos, the tostada-fortified "Loco Burger" (w/ refrieds & habanera-onion relish), and wings in nine flavors, from sweet honey to "Locas" habanera, though if they really wanted to be locas, they'd have wings flavored like Thomas Haden Church. The copious bar offerings include spiked aguas frescas (hibiscus-tea Jamaica, sour-fruit tamarindo, barley/rice/vanilla horchata...), shots such as the "Muppet" (Squirt'd tequila; $2 on Mondays), 17 bottled beers and 8 taps, from Negra Modelo to two exclusives from Franconia ("Morena" and "Guera"); meanwhile the "pitchers" are actually spigot-tapped, soccer ball-shaped micro-kegs -- use yours to start a tipsy pickup game, and the staff'll make sure you won't have Negra to kick around anymore.
For bonus drinking, there's a 10-label strong, roving tequila cart on a mission to promote the celebratory taking of shots, as opposed to shots taken after losing, which can just end a man.