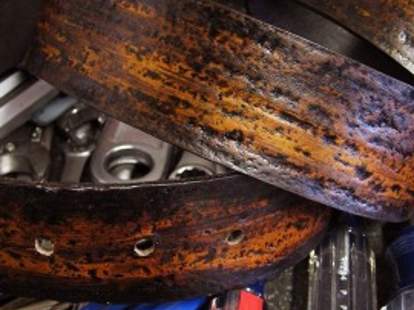 Men chained to an office job often feel compelled to get their hands dirty on weekends, by fixing up vintage cars, or building a superb armoire, or fixing up vintage cars even more vigorously after discovering their best friend building an armoire. Working out white-collar kinks by classing up your waist, Patriot Leather belts.
Out of Cowtown, Patriot's the hobby-turned-budding-business of a graphic-designing father of twins who, after wearing his first creation to the office and getting loads of accolades and requests, decided "belts are the new ties" -- freeing up ties to pursue their dream of becoming the new headbands. Each belt's fully hand-crafted, from the Knothole Woodgrain (wavy patterns inspired by his woodworker dad), to the Racing Stripe (offset horizontal stripes, available in light/dark), to the wood inlay-copping Random Block (burned-in rectangles of random sizes/colors, buckle included), to the six-step stained/faded Asphalt Cowboy, which the designer softens and embosses by wetting it, then running over it with a car (though the spare tire is yours). Also handmade: antique-looking metal buckles with leather inlays like the Woodgrain (same as the belt), Skull & Roses (those, encased in a red-stitched border), and the oval, metal-rope bordered, red & blue-stained Texas Western, guaranteed to put a little pep in your UTEP.
Patriot also offers blackened, snap-on cuff bracelets and personalized belts for children, who you'll see only on the weekends after your wife finds you building an armoire.