Childhood friends typically spend most of their time together eating pizza, joyfully ensuring that they'll never become senior-citizen friends. Serving you pies with the time they've got left, the childhood friends behind Pizza Lounge.

Opening Saturday across from Fair Park, P-Lounge is a brazenly inventive gourmet pizza shop helmed by Canton, OH natives who've known each other since their dirt-eating years (age six), and kitsch-ily outfitted with vintage velvet sofas & rockers, chrome/plastic seating, and a beer fridge-backed bar lit by funky stained-glass globes. Topped with local ingredients, the hand-tossed discs start strong with the Cubano (provolone/Swiss/roasted pork/ham/dill pickles), the Mac (& cheese) Daddy, and the five-meat Sofa King, then get wack with numbers like the Greek-A-Lot-A-Pus (lamb/onion/cherry tomatoes/tzatziki) and the Hawaiian: Spam, pineapple, macadamia nuts, and Kona coffee beans, ensuring that even after a late-night scarf you'll stay awake for Dan Aykroyd's PSI Factor. Build-your-own ingredients run from Hatch chiles to pine nuts, but there're also other offerings such as the still-being-perfected pizza soup, the iceberg-wedge Cop Out salad, or Italian sausage-cased "sauerkraut balls", sure to be a hit with Cristal Taylor.

To get you Fair Pickled, there's wine & a dozen bottled beers, plus cocktails like the Hendrick's/cucumber/mint "Scottish Mojito", the Patron/half & half/brown sugar syrup "Amigo Blanco", and dump-bucket sangria -- and if you spent your whole childhood eating pizza, you've become very acquainted with the dump bucket.
Recommended Video
This Fried Chicken Sandwich With Sushi Rice Buns Is the Best of Both Worlds
Previous Venue
Next Venue
Venue Description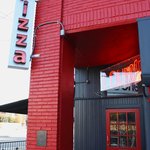 1. Pizza Lounge
841 Exposition Ave, Dallas, TX 75226
The words "pizza" and "lounge" together is tantalizing enough, but the vintage pin-up motif and additional vegan fare are more than enough reason to drop by this Deep Ellum pizza powerhouse. Pies worthy of five stars come topped with melty mozzarella and provolone blends, big basil leaves, and fresh pressed garlic -- or, if you're living la vida vegan, Diaya mozzarella and miraculously meatless pepperoni.