To loosen the kung-fu grip of recession, this polished French-Mexican resto has re-branded itself as a casual bistro with a new bar/patio menu, & is slashing prices 40% on items like tilapia/scallop/shrimp ceviche, four types of gourmet flautas (from 'shrooms to picadillo), and a chorizo cognac-sauced seared veal chop w/ Cote de Veau black beans, preferred legume of Bell and Biv.
Recommended Video
Attention All Wine Drinkers: This Is the Pasta You've Been Waiting For
Previous Venue
Next Venue
Venue Description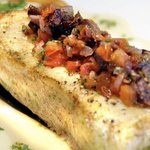 1. Price Cuts At SOLey!
2405 N Henderson Ave, Dallas, TX 75206
To loosen the kung-fu grip of recession, this polished French-Mexican resto has re-branded itself as a casual bistro with a new bar/patio menu, & is slashing prices 40% on items like tilapia/scallop/shrimp ceviche, four types of gourmet flautas (from 'shr