Smart restaurants tailor new locations to their surroundings -- even proudly uniform McDonald's has a Wall Street franchise that employs a classical pianist, entertaining the cultured banking crowd with the pleasant strains of McDebussy. Tailoring their new spot to its high-end 'hood, the folks behind Ristorante Nicola, open Friday

Shorter-named sister to Nicola's Ristorante Italiano (in the Shops at Legacy), Nicola's is at once statelier and boozier, with stained-mesquite flooring, mahogany-toned leather dining seats, a U-shaped granite-top bar, hulking black Murano glass chandeliers, and a pair of private dining rooms with dedicated kitchens (they swore a solemn oath never to become bathrooms). The partially open kitchen's helmed by a Rome native whose centuries-old recipes start with the likes of mussels & calamari in spicy tomato broth, and a sauteed shroom-abetted carpaccio; then move on to pastas like vodka-sauced, roasted chicken & spinach-stuffed rigatoni, and tomato sauced, smoked pancetta-flecked "hollow spaghetti", all method actor Kevin Bacon would eat during the filming of a certain empty-audienced movie. Mains range from pan-seared veal medallions (w/ 'shrooms and Gorgonzola polenta) to slow-roasted pork shank in a rosemary reduction; meanwhile, nightly rotating pizzas are fired using hickory & mesquite, imparting a Texas flavor to your cheese, just like Dallas Divas & Daughters.

To top off dinner/irresponsible lunch (coming), there's an Ital-heavy 120+ wine list ($32 2008 Tramin Chard to $350 2006 Sassicaia Toscana), several ports & grappas (Graham's Six Grapes, 2005 Far Niente Dolce), and signature mixes like the Ginger Knob "New Fashioned" with bourbon, ginger liqueur/puree, orange, cherry, and bitters -- a reminder of how you feel, knowing that some McDs get live piano, while you're stuck McBussing your own tray.
Recommended Video
Adulting Is Hard. This Twinkie Bourbon Cocktail Is Not.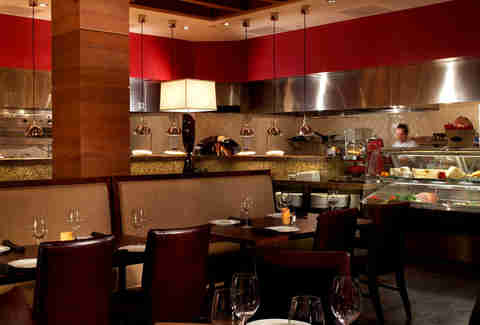 Previous Venue
Next Venue
Venue Description
1. Nicola's Ristorante
5800 Legacy Dr, Plano, TX 75024
Sitting pretty at a corner in the center of Plano's Shops at Legacy, Nicola's draws shoppers inside from a bustling patio and keeps them within its two gold and red levels with traditional Italian fare like wood-fired flatbread pizzas gushing with sweet sauce and mozzarella, fresh-pressed panini sandwiches, and house-made pasta dishes sporting breaded chicken, tangy artichoke hearts, and grain-fed beef among other toppings.