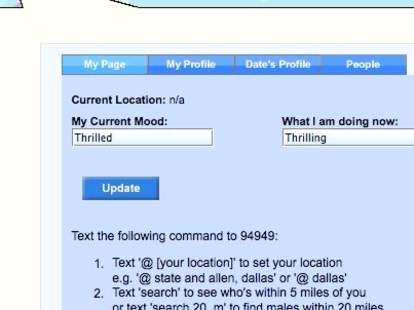 Staring at the sea of people around you, you never know who could end up being your friend, or even romantic partner. You also never know who could pretend to be either, only to drain your bank account and frame you for murder. Nevertheless: Helping you cull the wheat from the thieving, duplicitous chaff -- and hook up with said wheat -- Serendipity Sense.
Beta launched out of Dallas, Serendipity's a free-for-now rendezvous service incorporating a patent-pending SMS mechanism that anonymously facilitates connections between people with shared interests and desires, a lifesaver whether you're looking for a fellow Razorbacks fan to watch games with at Humperdink's, or a fellow Razorbacks fan to...well, drop the "perdink". Sign-up's simple: just input gender/age/education/personality type/occupation/relationship sought ("Long Term", "Friend", "Chat"...), plus a pic and a 160-character intro and "Desired Date" description; once out-and-about, just text your location to 94949 to have nearby users' profiles/pics texted to you, and request a no-numbers-exchanged text chat, which 100% of the time will start off with "I really enjoyed your pic", even if that's a lie. If comfortable, users can arrange to meet in person, or just sit around texting each other like actual friends; you can also reject chat requests, block/unblock users, turn profile visibility on/off, and switch screen names to reflect mood, i.e., from kevinpartiesballs to kevinneedsattorney
The temporary hitch: for the next few beta months, major profile alterations must be handled over the web, though eventually these too will be dealt with via text, affording even non-smart-phone users maximum flexibility to send out the exact right signals at any given moment, like "Hi, I'm surprisingly gullible for someone who's accumulated this much wealth/antique guns".