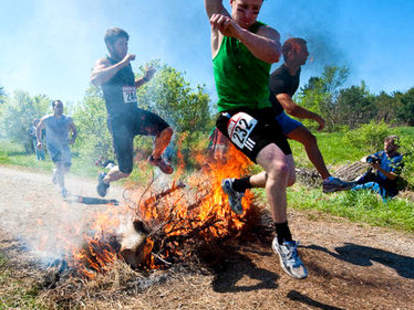 The big problem with running 5Ks is that you typically must wake up really early in the morning only to find there are no burning hay bales to scamper over. Run a 5k that offers that and more: Spartan Race
Spartan's a "more achievable version" of Vermont's notorious "24-hour Death Race" (an assault course that boasts a 90%-plus quit rate before its halfway point), covering the aforementioned 5k and packing in obstacles that meld adventure racing, special ops training, ancient Greek traditions, and American Gladiator -- so the injured can recover by taking in some cosmic rays with a brewski and a babe. Sweet! The punishment kicks off with your entire heat screaming a "War Charge" down a hill, followed by such joys as some guy attacking you with a pugil, leaping over those flaming hay bales, a barbed-wire crawl, and the "Heroes Spear Throw", hopefully resulting in the impaling of Matt Parkman. There are also three "Mystery Events", impossible-to-train-for challenges designed to hit you with such shocking surprise, you'll forget certain training you received at age 3.
All Spartan conquerors will earn a medal, t-shirt, and post-race feast with gratis bbq and beer, as well as a live band trumpeting your glorious achievement. The two runners-up get replica spears, while the overall winner scores a "genuine Spartan helmet" and an invite to the Death Race, which, win or lose, should take care of that waking up early thing altogether.