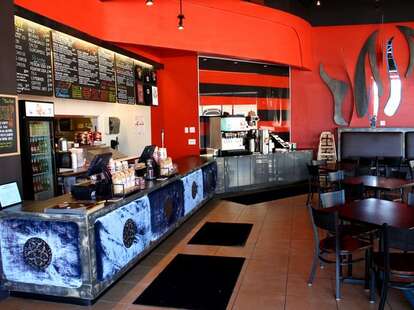 Growing up in a trailer doesn't bar success -- it certainly didn't stop Clint Dempsey from kickin' balls at the World Cup, or Hilary Swank from convincing the world she was kickin' it, with balls. Evolving ever further from the trailer, Torchy's Tacos, opening today.
Sneakily slid into Preston Forest's NW corner, Torchy's is a beloved Austin mini-chain started by an ex-MTV/Dell chef in an Airstream before he added four casual non-wheeled locations; the Dallas debut's far classier than the Austin spots, with iron- and mirror-festooned red walls, fake patron silhouettes cut out of metal plating, and (soon) iron chandeliers & blue-velvet curtains -- a look dubbed "elegant goth", like Robert Smith at a bar mitzvah. Except New Mexican green chiles, all ingredients are TX-grown, with "Damn Good Tacos" like the cheese & pico fried-chicken "Trailer Park", the jerk chicken/grilled jalapeno/mango "Brushfire" (slathered in habanero-based Diablo sauce), the barbacoa/cilantro/fresh avocado/queso fresco "Democrat", and the grilled jalapeno sausage/poblano ranch "Republican" -- $.75 less than the Democrat, due to the lack of government queso. For a fatter gut-bomb, grab beef, chicken, or pork fajitas & burritos; for early risers, breakfast tacos are build-your-own or come one of two fixed ways: migas, and the the egg/bacon/green chile/cheese "Monk Special" -- keep shoving in your mouth, and you'll be one fat Tuck.
Like all of North Dallas, Torchy's is dry (though maybe that Nov. wet petition will change things), but for a sugar high they do offer deep-fried chocolate-chip cookie balls called Little Nookies -- because ever since Boys Don't Cry, you never know when nookie will come up balls.