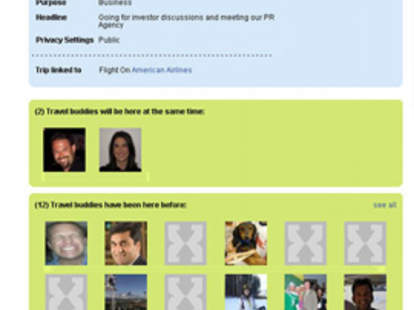 While business travel has the potential to be thrilling (picking up a lonely woman in the hotel bar), too often it ends up fatteningly sad (picking up a lonely burger in the hotel bar). Make your business travel more social with Traxo, now in private beta.
Started by two ex-Travelocity techies, Traxo's like a completely free TripIt, with automated aggregation: a travel manager/social network that compiles itineraries booked on other sites and opens them up to selected users, helping city-hoppers coordinate meetups, hookups, or even just fleeting thumbs-ups as they pass each other on opposite moving walkways. Just input account numbers from airlines, hotels, car-rentals, and general travel (Expedia, Travelocity...), so that Traxo may securely suck in their data; then select who you'd like to see your stuff: everybody, your "buddy" list, individuals, or just you, because maybe nobody needs to know that your conference in Chicago somehow involved a strip club in Montreal. When buddies' plans intersect, alerts are sent; buddy-to-buddy functionality also includes future plans (including specific flights/hotels/locations), viewable friend-lists, messaging, and a notes field; past trips can also be loaded up, so you can pester people with questions about the places they've traveled, 'til they dread you visiting the place they live.
Traxo goes public next month with added functionality to be provided via social hubs like Facebook and Twitter -- because if anything signifies that you've left loneliness behind, it's blurting out your every move in 140-character spurts.