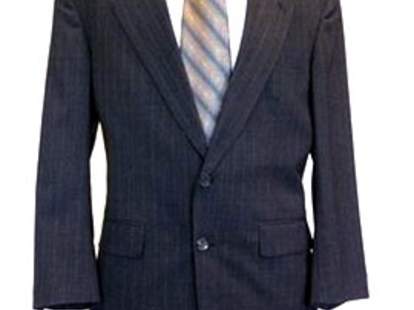 No one looks sharper than a news anchor: the trustworthy face, the perfect hair, and most of all, the suit that says "poised and in control" even when WEDNESDAY'S PET WILL BE KILLED IF YOU DON'T ADOPT IT NOW! Now, grab that suit, from TVNewsCloset.com.
Just launched by a venerable Irving news-talent placement & coaching agency, TVNC offers up newscasters' old duds for 60% off retail, the goal being to give budding anchors an affordable option in tough economic times, though the e-store's open for anyone hoping to look smashing while saying "Goodnight, and have a pleasant tomorrow" to women who've just rejected them, despite their suit. All suits, blazers, slacks, shirts & ties are guaranteed to have been worn on-air by someone unbelievably authoritative; names aren't revealed until after purchase, but hints are given alongside measurement deets, i.e., "From a weekend anchor in a top 10 market", or "From a sports reporter for a top station in the Southwest" -- so you could end up looking exactly like Dale Hansen, provided your name is Brian Dennehy. Choice choices include a 38-chest Lombardo sport coat worn by a regional network play-by-play man; a gray double-breasted Burberry worn by a big-bodied, big-market "Primary Anchor"; a Bill Blass pinstriped/single-breasted job worn by a top 5 market anchor; and a local weekend anchor's Roger Stevens pinstriped navy number worn just once -- and presumably including a note to his page, "Pinstripes do not match gravitas".
If you lust after the likes of Alexa Conomos, you should turn your girlfriend on to TVNC's fine selection of lady-broadcaster garments -- after which she'll remain poised and in control as she says, "ADOPT SOME BETTER FANTASIES, OR OUR RELATIONSHIP WILL BE KILLED".