Eating and music go surprisingly well together, as in Weird Al's "Eat It", and "Amish Paradise", aka, "Eat It, Coolio". Bringing Dallas some high-decibel dining: Sundown at Granada, a theater-adjacent spot that's previewing its bar starting tonight, and unleashing its full menu the 13th.

This funky brasserie's armed with a 30ft mirror-backed bar lined with leather high-chairs, an ancillary parallel bar, a wood-walled, retro-living-room lounge, and twin patios, one covered with wicker furniture, the other a wraparound rooftop deck that'll be open this spring, probably the only time you'll fulfill your twin-related dream of "doing both of them". Designed by CIA-trained Patrick Stark, the "eclectic, international, approachable and foodie-friendly" menu kicks off with small plates of Mike's Avo Bombs ('cado halves filled with the likes of Chicken Waldorf/sun-dried tomatoes/almonds) and Chisholm Trail grass-fed longhorn burgers including one for all you handsome Dicks out there: the Manitoba Monster, topped w/ BBQ brisket, applewood-smoked bacon, and cheddar. Mains stretch from spicy blackberry bbq'd Atlantic salmon (spiced pecans, whipped sweet potatoes, chili-lime crisps) to "nontraditional Designer Tacos" like the Sriracha Shine Box (Shiner'd brisket, pineapple, feta), the Gulf-sourced Shrimp Boat (avo, Baja slaw & chipotle), and the Dead Head Parking Lot, with black beans, sweet potato, goat cheese, spiced pecans, and drunken 'shrooms, which the 'shrooms only do to deal with your shenanigans after eating them.

Tipples count 60+ crafts (from Rogue to Green Lakes Organic Ale) and 'tails such as the Heated Mule (muddled jalapeno, rum, maple-agave syrup, ginger beer top) and the tequila/Aloe vera juice/agave Detox Tini, the perfect hangover cure if you're White and Nerdy!
Previous Venue
Next Venue
Venue Description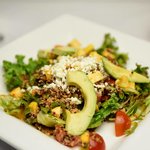 1. Sundown At Granada
3520 Greenville Ave, Dallas, TX 75206 (Lower Greenville)
Armed with a 30-foot mirrored bar, cozy leather seating, a retro lounge, a patio, and a wraparound roof deck, Sundown At Granada isn't playing around with their rustic Southwestern imagery. Same goes for the food and drinks: breakfast and brunch comes with a flood of quinoa- and avocado-laced eggs and sugary sweet French toasts, meanwhile at dinner, charcuterie plates and burgers make the rounds with plentiful local craft beer, draft ciders, wines, and sipping spirits while live music fills both floors.