Wild and Crazy Beer Pong Tournament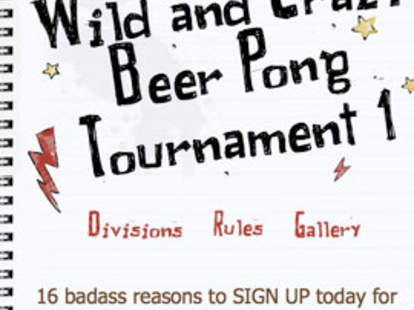 The obsessive promotion of "sportsmanship" has taken all the fun out of sports -- just ask Ron Artest, nicely. Be as nasty as you want to be, at the Wild and Crazy Beer Pong Tournament.
Held at the unapologetically liquor-soaked Lee Harvey's, the WCBPT's a beer-included, music-fueled, single-elimination toss-off that encourages -- sometimes with cash -- all manner of distracting ill behavior, no matter how annoying, offensive, or lewd, short of grabbing the other team's balls. To wit: basic rules are the ballsy side of standard, with blow-offs allowed, make-it/take-it, and loser consumption of delicious winner beer; for further distraction, you can pretty much do cartwheels, and $100 will go to whoever either talks the best smack, be it hilarious, cruel, or hilariously cruel, or whoever executes the best flash, preferably but not limited to breasts. There are three divisions: Singles, Doubles, and the free-to-enter Bikini, which the organizers claim will result in "more boobs on a Saturday afternoon than Party Cove at Lake Lewisville"; 40 girls've already signed up, and most've been determined hot via a thorough Facebook stalking session that also weeds out Friendster users, who everyone knows are butt.
Overall winners get $300 cash, with other prizes including pong-rigs from co-host Intox Games and BJs, inflatable tables from PortoPong, and electronic cigarettes from eCigarettes Choice -- now that the fun's back in sports, time to take the fun out of smoking.