Bad management usually leads to a bad shop, unless you're Paul Teutul Sr., and you're selling side-splitting hilarity...that needs to be completely powder coated by Tuesday?!? For an awesome shop ironically inspired by a terrible manager, check out Community Service

Run by a graffiti artist and his clothes-horsing chum, Community was born when the two finally had enough of the manager at their skate shop and decided to set up their own; the "street art/branded clothing store" is pimped with graffiti'd walls from local crews, and is adjoined by a gallery currently stocked with canvases, tricked out skate decks, and other rotating art, though no one knows how Garfunkel learned such a sick 540. Fresh threading includes sweaters/hoodies/tees from local brands like Company of Artists, Loyal Clothing and The Dope Group (plus Akomplice's high-end VSOP line), plus everything from tees to raw denim from a list of esteemed national outfits like Crooks & Castles, Upper Playground, Counter Balance, and Acrylick, who clearly spent more time in art class than English. They're also art-supplying would-be urban muralists with EVOLVE, beat, mtn, and Montana spraypaint cans, markers and caps, and a slew of sketch 'n illustration books, including one by tag-master Scape Martinez which's widely considered the first "how to" book for graffiti artists, which presumably includes a chapter about surviving the can

Though they're in business now, the grand opening party's on the 15th, and will feature live art, DJs, and a contest for best-designed kidrobot Munny -- also what Junior's not seeing any of unless the Lawnmower Bike's back from Nubby by 5pm sharp!
Recommended Video
These Socks Are Stronger Than Steel
Previous Venue
Next Venue
Venue Description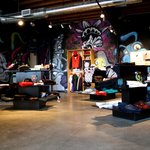 1. Community Service
3356 S Broadway, Englewood, CO 80113
This "street art/branded clothing store" features graffiti sprawled across the walls and a collection of sick threads that'll have your head spinning faster than the wheels of the skateboards that inspired the founders aesthetic.