They say people are shaped by their environment, which can't be entirely accurate, as Hollywood isn't a craggy, disfigured wasteland, and Sandra Oh lives there. For furniture shaped by its creator's locale, check out the work of Brad Reed Nelson.
Carbondale-based Nelson got his MFA at AZ State and originally made pieces influenced by its Playboy-worthy party scene, before a mindstate-shifting move to CO got him started on more "playful" contemporary furniture using old barnwood, eco-friendly finishes, and other upstandingly Coloradoan, "honest materials"...though dude fabricates everything, so who knows.
A sampling of his masterworks:
Gilligan Island Table: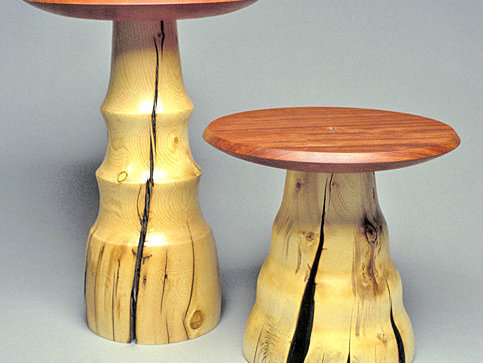 This side table from a standing dead spruce is named after the theme song's "a three hour tour" line, because Brad claims that's how long it takes him to whip one up. But again, dude's probably lying.
Betsy Boom Table:
Nelson thinks of this reclaimed fir timber coffee table as furniture "elevated to the level of architecture", and likes to imagine it as a small building filled with little people, which is silly, as they're actually all out professional wrestling in leprechaun outfits.
Red House Table:
Anchored by a large oak block centerpiece, this table/lamp combo's got a red steel frame whose shape echoes that of a barn so accurately, you'll have no choice but to praise the roof.
For table-side sitting, he's also got a collab piece just named one of the world's "top 10 modern rocking chairs", though get too beastly with it, and you're likely to end up Sideways.