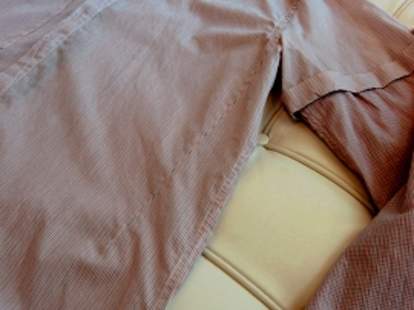 Everyone enjoys setting themselves apart a bit, but there's a difference between wearing some extra-snazzy shoes and rumbling around in an assless Santa outfit at a charity ball. Fine line, but it's there. For gear that lets you be different on the sly, check out Andrew Buckler.
From a former UK shoe designer who eventually shifted his sartorial focus over to denim and then casual wear, Buckler takes classic dude-garb silhouettes and gives them eccentric little details here and there, cleverly separating you from the crowd, even if you're squarely in the middle of one, and not clever. Long sleeve buttondowns seem normal at first glance, but get funky upon closer inspection: the "Perfect Blue" is a slim cut, small-collared blue dress shirt that's minimal up front, but parties in the back with a buttonless faux-placket that's got a lone embroidered bug on it, while the pinstriped "Best Of Both" basically starts with a short sleeve, but gets completed by sleeves of a different plaid fabric, and also gets its chest pocket on the right, supposedly so your cell phone battery won't radiate into your heart -- though no amount of pocket shuffling can defend it against the Sisterhood of the Traveling Pants. There's also a sleek indigo golf shirt with a zipper instead of buttons, and more casual still, tees and pullovers like "Guitar Girl", a lightweight sweatshirt with a drawstring collar like a hoodie's, only there's no hood, with a hot girl flirtatiously holding up one leg, which morphs into a guitar, and "Bits And Pieces", a tee with a big skull sprinkled with little flies, elephants, cows, schnauzers, and mosquitoes, so people won't know whether to pet your chest or coat it with Off! Deep Woods.
For your lower appendages, Buckler's got raw denim including the dark "Skinny Bastard" with contrast yellow stitching and both slit and standard jean pockets in the back, and the "Clean Check Mate", a sleek black trouser with only a coin pocket in front, and jean pockets in rear; they also make thoughtful undies, like a series of boxer briefs with a condom pocket in the back, just in case you run into any ho ho hos.