Parisian bloodlines in a Design District eatery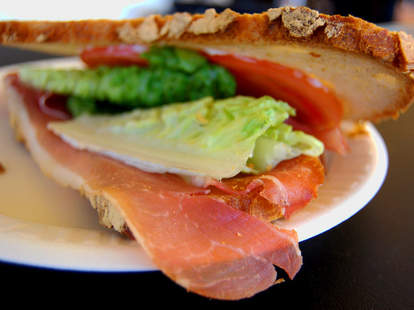 Sometimes you're just born into something: if your dad's a doctor, you grow up exposed to the rush of saving people's lives, or just helping them not pee 100 times a night. For food from a guy who was meant to make it, check out Buena Vista Deli.
From Claude Postel, the French force behind deeply loved Buena Vista Bistro, and whose family's been making other people meals for seven generations in Paris, BVD's a Franco-style deli/cafe with a menu scribbled on chalkboards, two big counters full of pastries on one side and meats and cheeses on the other, and metal chocolate molds Claude's family has employed for several hundred years, a tradition he honors by placing them on the wall and never using them. Morning chowing involves house-made jelly w/ baguettes, pastries like chocolate croissants and apricot tart bourdaloue (a layered deal with a big glazed fruit in the middle), and meal-sized stuff like the Spanish Omelette w/ coffee, jellied toast, and fresh squeezed OJ, which contains plenty of pulp, but never an admission of guilt. For lunch Claude's plating traditional French sandwiches (on skinny baguettes or fat sliced loaves), with options like the Campagne (house made duck pate w/ cornichons & Dijon), the Rillettes (house pork shoulder slow cooked in fat and whipped into a pate-like spread, w/ mustard), a Scottish smoked salmon number with onions, capers, and cream cheese, and a panini with tomatoes, squash, portobellos, and house-made pesto called the Rasta Garden, a vegetarian offering going by the mantra "no chicken, no thigh".
Buena's also slingin' eats you can take home: dinners like lamb stew, duck confit, and salmon coulibiac (layers of salmon, spinach, and herbs baked inside a pastry), plus a selection of cheeses updated every couple weeks with the freshest stuff their purveyor can find, like goat varieties from different hamlets in France -- which you see along with London, and a disturbing lack of underpants.