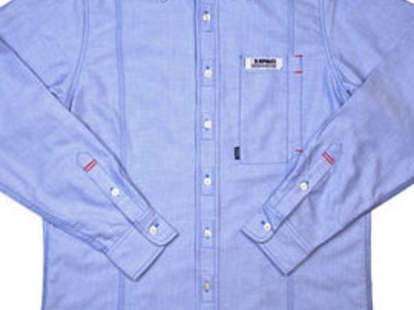 For eons, when a boy journeyed out to sea, he either returned home a man or perished due to the appetites of the ocean, whether devoured by sharks, or devouring the 24-hour Carnival dessert buffet. For a clothing line manning up with a little help from the open water, check out King Stampede.
Previously producing bold streetwear hats and graphic tees with wild logos and references as disparate as acid and "every inch of my love", King has evolved into a collection of more subdued tees, plus sturdy oxfords and outerwear, all with rugged/kitschy/nostalgic connotations of New England whaling/drinking towns. Their new frontier includes a semi-slim-fit High Officers Long Sleeve oxford in mellow pink or blue with triple-lock contrast stitching and a pencil slit in the pocket; a short-sleeve oxford in the same pink or blue, with contrasting grey shoulder patches and pocket; and the Harpoon, a cotton-lined football coach-ish nylon windbreaker, with a Stampede logo on back scripted from whaling harpoons and twisted ropes -- at least you won't have to high-knee through them. Graphic tees include the Siren Song, depicting Neptune and a topless mermaid lounging next to huge speakers; the High Seas Drum Crew, with a high school mascot-type eagle clutching drum sticks; and a bearded captain navigating by the stars and smoking a cigar, called Sage Of The Sea (just don't call him an herb).
KS still makes loads of caps, including one with interchangeable Velcro-ed logos ranging from checkerboard, to a funky music note, to slogans like "Original 12"" and "Beginner's Mind" -- ushering in the same "why not have them all" attitude that almost sunk you off the coast of Aruba.