A Greco-Turkish taverna in Buena Vista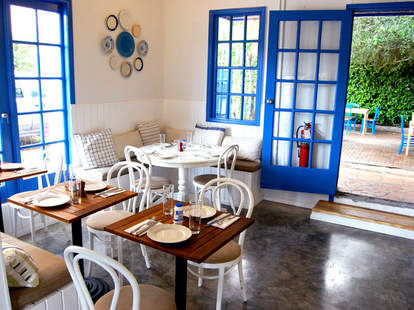 Food holds the power to bring people together: think of how you stopped bickering with your brothers when you all got ice cream, until they realized you got the Choco Taco, and kicked the crap out of you. For a resto born from the delicious shared grub of two rival factions, check out Mandolin Aegean Bistro.
From a Turkish/Greek husband/wife team committed to the simple rustic cuisine their often-contentious people have in common, Mandolin's just been added to the roster of intimate Buena Vista date spots, and looks like a cottage lifted from the Aegean coast, with white-washed walls and blue shutters in a rustic interior that feels almost like someone's house, and a lantern-lit back patio surrounded by tall bushes, aka Kennebunkport. The menu reflects the region's land/sea bounty, with meze samplers (standouts: smoky eggplant dip, savory fish egg whipped w/ olive oil, thick Turkish gazpacho), meats like beef & lamb meatballs, sucuk (grilled Turkish chorizo w/mint), and a salad made with finely chopped tomato, parsley, onion, and pomegranate molasses called the Turkish Spoon -- also what Joey should know happens after lights-out in Turkish prisons. Entrees include a lamb chop marinated in oregano, then brushed with olive oil, grilled and salted; a seafood stew w/ shrimp, mussels, calamari, tomato, and oregano; fish like Mediterranean sea bream/sea bass and local snapper, grilled whole w/ olive oil and lemon; and a grilled sirloin steak that's been pounded, and's now hankering for a good spooning.
There're also mid-day sandwiches like pulled lamb and a Mandolin burger (sirloin & lamb patty topped with Kasseri sheep's milk cheese), plus Turkish coffee served with little cubes of Turkish Delight. As for grog, it's BYOB for now, with regional wine and beer in a couple weeks, plus pitchers of Aegean sangria -- which you'd do anything for, given the depraved depths you'd sink to for a Klondike.