Once it dawns on you that Yule Logs aren't technically plant-based (damn you, confectionery marketing geniuses!), being dragged to a vegetarian meal can be daunting. Thankfully, now you can have a satisfying one while guaranteeing your herbivorous ladyfriend will want to satisfy you, at Seva.

With color-blocked walls, mahogany tables, and a frosted-glass-backed bar composing the decor, this Detroit outpost of Ann Arbor's fave veggie venue will first lower both of your inhibitions via liquor-y libations, using the house juice bar to work up fresh-as-balls Cherry Lime Rickeys (gin, Michigan tart cherry concentrate, house sour mix), Ginger Juleps (made w/ Maker's and a fresh shot of ginger), and the Laphroaig/MI maple syrup/house lemonade Highland Cleanse, of which there can be only one...at a time, because double-fisting is for frat dudes in Ann Arbor. Even without a head full of hooch, the grub's shockingly appealing, from Enchiladas Calabaza (butternut squash, cream cheese & chiles topped w/ spicy tomato sauce and cheddar/Monterey Jack), to mac & cheese w/ an aged, raw milk white cheddar sauce, to housemade corn nachos w/ 'penos, black beans, cheese, and green onions, which is fittingly good for your organs. Hit it, Booker T

Brunch is in full effect as well, and they've gone so far as to hit up Avalon Bakery for toast options ranging from Motown Multigrain to challah, which you'll do with joy when you get home from dinner and your ladyfriend starts to satisfy you.
Previous Venue
Next Venue
Venue Description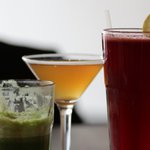 1. Seva
66 E. Forest St., Detroit, MI 48201 (Midtown)
Seva provides a haven of flavor for hungry vegetarians in Midtown. The restaurant's original Ann Arbor location has been serving up quality vegetarian and vegan fare since 1973, and its younger Detroit spot doesn't disappoint. Menu highlights range from small plates like yam fries with spicy mayo and vegan barbecue sauce to entrees like the TLT, a wheat wrap made with tempeh, cheddar, guacamole, tomatoes and greens. There's fresh squeezed juices for diners on a detox and floral, fruit-forward cocktails for those who prefer to sip and savor. The space itself is bright and open, making it a decent lunch option for groups.