In the back of Cole's (behind an oak door marked only with a framed drawing of a cocktail), this tiny bar from the vaunted mixologist minds behind Manhattan's Milk & Honey and Little Branch is delivering cocktails handcrafted with the same attention to detail as its NY counterparts (chipped block ice, homemade ingredients, fresh-squeezed juice, etc). Decor's turn-of-the-century, with cushioned, slatted-wood booths and a penny-tile floor; drinks're similarly old-school, with classics like the Bees Knees, the Gin & It, and the Hemingway Daiquiri -- drink a couple and tell the tale of The Old Man and the Pee.
Recommended Video
You Can Now Get Artisanal Twinkies Delivered to Your Door in NYC
Previous Venue
Next Venue
Venue Description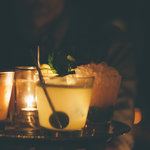 1. The Varnish
118 E 6th St, Los Angeles, CA 90014
In the back of Cole's -- specifically behind an oak door that's marked with a framed picture of a cocktail -- is The Varnish, a tiny bar from the vaunted mixologists behind New York's Milk & Honey and Little Branch. The bar is an intimate, Prohibition-era hideaway with cozy wooden booths, soft jazz playing in the background, and expertly-made top-shelf cocktails. Order the Improved Whiskey Cocktail, or go off-menu and let the bartender make you something unexpected.