Downtown's all NW wine spot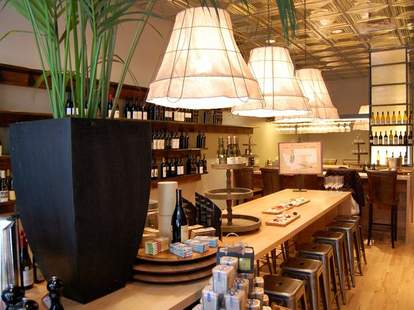 Although annoying, tourism can support cultural events, ranging from Broadway plays in NY, to Second City comedy in Chicago, to that one thing in Vegas that's totally over the top -- you know, in the casino. Well, now tourism's supporting Seatown's newest wine bar: 106 Pine.
The latest endeavor from the couple behind 1st & Pine's touristy gift HQ Simply Seattle (and the locally sourced chocolate shop next door) this glitteringly aluminum ceiling'd, blond wood heavy wine bar/shop is dominated by a communal tasting table and a double-sided bar, all framed by rustic-style shelves stuffed w/ bottles of vino, antique bottle openers, artisanal oils, and herbs & spices, although they still frown upon anyone trying to drink and chive. The constantly rotating 400+ wine list includes 20 or so glass pours, and is NW only, ranging from Oregon's Cameron pinot noir, to Washington's Corvidae Lenore Syrah, as well as less intimidating/more frugally inclined vino like Revelry, which usually comes in innovative cardboard packaging, allowing you to tell everyone about your drink in a box. By way of nosh 106 offers charcuterie/cheese "pairing boards" like the Just Meat w/ creminelli barolo/casalingo & tartufo salami, the Samish Bay Ladysmith cheese/prosciutto/apple/cherry compote Ladies Who Lunch, and the Truffle Love, which's got creminelli tartufo salami, white truffle oil, and a truffle tremor cheese, best enjoyed not recklessly bouncing on a pogo stick in Nevada with Kevin Bacon.
106's also got a few NW brews (Pike XXXXX Stout), a daily happy hour from 4-6pm, and hosts weekly urban wine tours that hit the tasting rooms of some of the city's wine makers/distributors, lending support to another cultural event; you, shirtless on your couch late night, ordering Pizza Time.