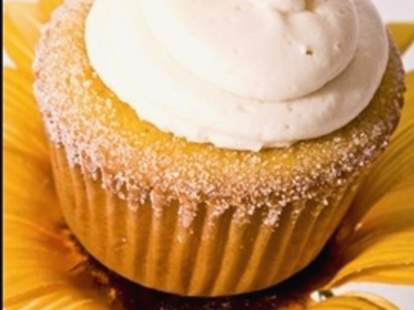 Cupcakes ruled the day on birthdays throughout childhood, powering parties, bringing joy to classrooms, and sending Sammy Taylor to the hospital for pooping tinfoil. Well, you don't have to wait for your special day anymore: 2 Girls And A Cupcake.
From two local gals who met on the high school dance team, attended band camp, and bonded over a deep love for delicious c-cakes, just-opened, appetizingly named 2 Girls is a cupcakery turning out treats once marketed on MySpace as Valentine's gifts, before demand got so high it necessitated a shop; the owners since perfected the base recipe, and now offer 200+ varieties (including booze-filled jobs), which they rotate daily, presumably inspired by "the Earth". Highlights include classics like the Southern Belle (red velvet w/ cream cheese frosting), breakfast inspired goodies like the Lucky Charmed Cup (vanilla baked with Lucky Charms marshmallows, topped w/ vanilla butter cream, and more Charms), and wackier celeb-driven baking like the Pharell-friendly Nerds Are Hott (Vanilla w/ blue vanilla cream covered in Nerds) and the King Of Pop: vanilla/chocolate topped with half-vanilla/half-chocolate cream, which you won't be able to stop devouring 'til you get enough. Because they're just that awesome, 2 Girls've also designed ways to load booze into their baking: the Sake To Me's vanilla soaked w/ sake and topped with more vanilla, the Jell-O Shot's got vanilla w/ Jell-O vodka filling, and the Gentlemen's Club gives you a private dance of vanilla cake mixed with Jack, Cuervo & Johnnie Walker topped with butter cream, an action normally confined to the Champagne room.
For their grand opening (which benefits the Michael J. Fox Parkinson's Foundation), 2 Girls're holding a 24-hour cupcake blowout kicking off at midnight tonight, with speed eating contests at lunch and later in the day, a lemonade stand, Rockband competitions, streetwear prizes from Foot Soldiers, and the brass ring: if you eat one of their wares every hour for 24 hours straight, you'll win a year's worth of cupcakes, so somebody slide a bedpan over to Sammy Taylor's gurney.