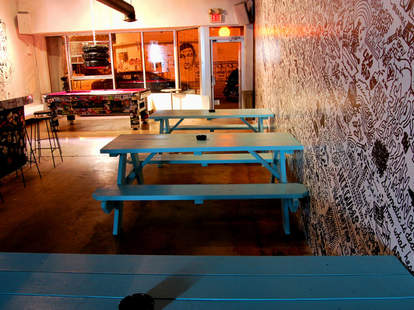 A makeover has the potential to solve everything, from making nerdy movie girls hot and date-able, to making Dennis Rodman look like a girl who is ugly, but not Dennis Rodman. For a joint that'll keep things fresh with a facelift every couple months, check out Bar.
The guys behind O.H.W.O.W. art/music/design gallery are taking over the old PS14 space to create Bar, which combines a no-nonsense dive attitude ($5 wells, pool table that they encourage you to plaster with stickers, no cover charge) with the "creative clubhouse" vibe of the gallery; every two months they'll let a new artist go nuts revamping the place (painting walls w/ original art, covering the place w/ photo wallpaper, etc), while the outside garden's (at least semi-) permanently done up in wall art by graffer KR, who describes himself as a "terrible art student, a semi-successful vandal, and an entrepreneur who learned everything the hard way" -- except, not sabotaging your entrepreneurial goals with admissions of poor work habits and criminality. The current art-carnation's from local artist/clothing designer Freegums, and consists of riotous black and white drawings of bears strapped down by Lilliputians, a flying saucer, happy faces, exit signs, and slogans like "saved by the bell", and "way too cool for school", making the walls very similar to the guy who did the graffiti outside. Tunes-wise, they've still got the stage area in the rear, and're planning on rock-/punk-intensive bookings, with likely bands including Casiotone, The Virgins, TV Baby, and A.R.E. Weapons, plus local DJs like Danny G of the Jacuzzi Boys, an outfit that categorically refuses to ever play "Friends of P".
Future plans include a "Locals Only" Monday night bash with free BBQ, plus the bi-monthly art makeover, which they say may end up involving artists like Eric Elms, who's worked for Vans & Stussy and has done stuff like massive 3D zippers on walls unleashing candy-colored pop art, or So-Me from Paris, who does distorted neon portraits of his buddies, some with M&M bodies, some with cyclops eyes, and all better looking than that towering chick who introduced herself as "Denise".