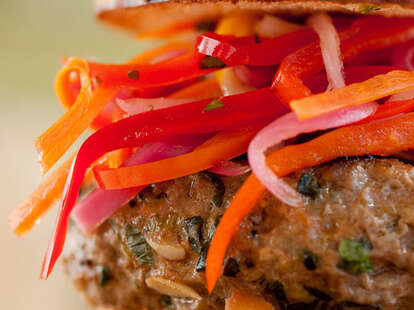 Forgoing standard operating procedure can be wise, especially since the Bread Basket is worth like 900 more points than lame old Butterflies in the Stomach. Switching things up to make your nose light up, Built Burger.
Unlike most food slingers who usually create a restaurant before selling their grub online, the patty peddlers behind Seattle-based BuiltBurger.com flipped the script and are just now bringing their pre-flavor-loaded meats offline to a 1000sqft counter-service spot featuring a utilitarian concrete-floored eat space softened with reclaimed touches like vintage miner-style light fixtures, and a pre-war butchers' union poster proclaiming "We Want Beef", which's what everyone thinks until Tupac goes ahead and sleeps with their wives. Boasting ingredients both in, and on top of, their beef cakes, BB's rotating selection includes the cilantro lime slaw topped Magnificent Chorizo filled w/ sausage, poblanos & cotija; the reuben-esque Supreme Pastrami topped w/ Swiss, sauerkraut & Thousand Island; and the Pinnacle Bacon Bleu packed with a "tri-fecta" of roasted bacon, caramelized onions & Danish bleu, who shot to superstardom in Denmark when Will Ferrell famously told him "man vil min dreng, Bleu!" Other options range from pork (the roasted red peppers/ caramelized onions Thrill BBQ w/ Old Bay slaw & dill pickles on top), to chicken (the cilantro lime slaw topped, Thai flavor-infused Utopia), to the just-cow Superb Trio with cuts of three types of all-natural beef in a "proprietary grind", which'll need to be called something else once Eric Nies's lawyers read this.
Additional edibles include sides like hand-cut fries sprinkled with Seattle's Secret Stash Sea Salt and savory potato beignets, plus a trio of build-your-own LittleBuilt Sliders with toppings like bacon, avocado, and Mama Lil's Peppers, which would be hilarious if you still had that Funny Bone.