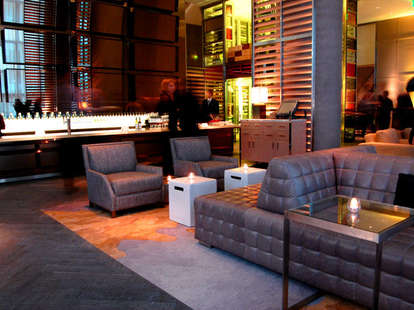 Lots of New Yorkers end up in Miami, but only because they keep renewing your subscription, and who doesn't love an inscrutable cartoon?!? For fine eatin' from a serious NY chef who's finally made his way to the 305, check out db Bistro Moderne.
The newest baby of three-time James Beard Award-winner Daniel Boulud, db blends traditional French technique with seasonal American flavors in a space with 18ft ceilings, a slick front lounge with a sunken bar, an eight-top chef's table in the middle of a glass-walled wine room, and three dining rooms, each with different wall finishing: rose mirrored, persimmon French, and whitewashed oak, which Tom Sawyer's aunt still thinks he did...oh, Polly, will you never learn?!? First courses involve Tuna Crudo w/ harissa-sesame sauce & crispy rice; Maine Lobster Salad w/ avocado, watermelon & pesto dressing; a mixed plate of imported French cured ham, Ossau-Iraty cheese, tomato-braised bacalao & toasted almonds; and a tarte tatin with tomato confit, goat cheese frisee, basil pesto sauce, and puff pastry, also what Diddy's mother doesn't let him have after dinner when he's a Bad Boy. Larger plates include pompano w/ a delicate bread crust & fingerling fries; the Lamb Duo w/ roasted loin, merguez, couscous, sheep's milk yogurt & lamb jus; and a pasta with tomato marmalade, artichokes, and a Parm emulsion called Nine Herb Ravioli, aka the featured cafeteria dish honoring the loser table.
If you need something more firmly American, there's the famed $32 Original db Burger: a sirloin patty stuffed w/ braised short ribs & foie on a Parmesan bun. To keep things classy, there's a list of 150 French and American vinos, starting at just $25 -- also the price of a year of the New Yorker, prorated for how many of those articles you can actually trudge through.