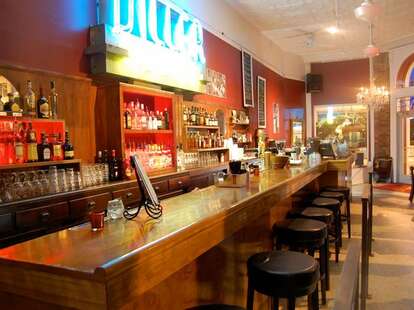 America has always been a country that honors its past, assuming that past started in 1492 when Columbus invented Thanksgiving. For a bar honoring its past, hit The Diller Room.
Just now opening in one of the city's oldest surviving buildings, this former hotel/speakeasy/cabaret/art gallery's honoring its history by transforming into a polished wood-heavy Prohibition-inspired cocktail-ery rife with original details from its hotel days like refurbished antique neon that usually falls asleep by Prime Time. Drinkswise, they're slinging Stoli/muddled lemon/simple syrup Diller Drops, the Jack/Cherry Liqueur/orange bitters Bailout, and -- in a nod to the spot's most recent incarnation as a coffee shop -- they've got caffeinated 'tails ranging from the Martini-style chocolate vodka/rum/Frangelico/Irish cream Diller Flatliner, to the espresso vodka/shot of espresso/mocha powder/steamed Irish cream Drunken Roman who, let's face it, isn't building anything in a day. The pleasantly unpretentious menu's got greens (the prosciutto/arugula Parma salad), grilled sandwiches (the prosciutto/Gruyere Roma, the roast beef/herb aioli/Gruyere Wellington), and snacks (BLT sliders, jumbo orange prawn cocktail); there're also daily happy offerings like Old Country Bruschetta, a Beecher's Cheese Plate w/ flatbreads, almonds & apples, plus a Gorgonzola & bacon Salad w/ candied walnuts & a 15 y.o. balsamic, which isn't psyched to be in a mixer with that virgin, Olive Oil.
The DR'll put the finishing touches on its transformation by April 1st, and later this summer plans to open a private speakeasy-ish club in an unused storage space that boasted a secret stairway from the hotel above during Prohibition, a period of American history that began when Al Capone invented schnapps.