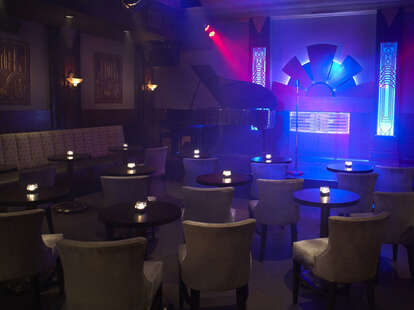 A three-pronged attack is a foolproof strategy for victory, as proven by Britain's three-pronged assault in the Revolutionary War's Battle of Saratoga, a move so brilliant it won them the war Albany. Attacking your hunger, thirst, and displeasure for silence, First & Hope.
Finally opening Monday for lunch after months of previews, First and Hope's got three distinctive areas: a lengthy, wooden bar w/ a space-age-esque rounded art-deco ceiling; a white-linen dining room with circular chandeliers, and, in the back, a dimly-lit live music lounge with a grand piano that looks like something out of a mobster movie, minus the hilarious Italian stereotypes. Food's from a former Memphis-based chef, and it shows, with fancified Southernish grub like flatbread w/ bbq pork belly confit, homemade pickles, smoked Gouda, mascarpone, Tillamook cheddar, & red onions; a pecan-plank stuffed whole trout w/ baby spinach and lump crab & heirloom tomato & cornbread panzanella salad, and lobster mignon w/ truffled antebellum grits, which are delicious despite being 160-years old. Drinkswise, they've got an enomatic wine system w/ 30+ options, a healthy batch of sipping boozes (18 year Macallan; 27-year Parkers Reserve), and two of the renowned Edison guys shaking up classic cocktails, w/ options like a Pimm's Cup w/ fresh, seasonal fruit, a Seelbach w/ Buffalo Trace Bourbon, orange curacao, bitters, & champagne, and the Famous Grouse/vanilla syrup Elle For Leather, also the name of a now-defunct magazine that exclusively supplied Joan Rivers with make up tips.
Dinner's coming April 19, with music in the back the week after, focusing on crooners and piano jazz, a two-pronged attack that'll win over your ears even if it failed on NY's awesome capital.