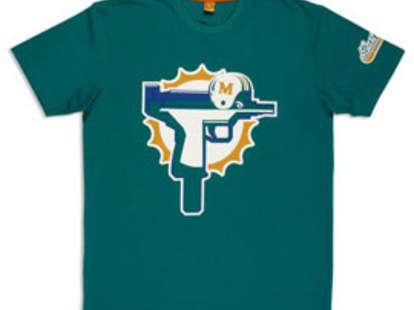 Extreme promotional tactics can prove wildly successful: Cutco knives shredding up pennies, Red Bull athletes jumping off bridges, or Paris Hilton jumping on anybody with night vision capabilities. For a gear brand pushing marketing's legal limits, check Last Rights.
Prior to their launch, hometown designers LR filmed a promo video for their first-ever line of Miami-inspired tees, shorts, and jackets, featuring a mock drug-drop with helicopters and speedboats, all without obtaining permits or permission; this turned out to be an unintentionally shrewd move, as they were not-mock busted, and their subsequent detainment made big local news...with NPR! The line's 305-themed tees include "Can Can", a dancing girl flashing her gams in homage to legendary Miami 1940s nightclub Latin Quarter; "Art Deco", plastered shirt-wide with a playfully colorful surrealist take on iconic Miami stuff like palm trees, a blazing sun, and possibly self-referential boats being chased by choppers; and the aqua "Dolphin MAC 10", with a helmet-wearing gat superimposed on the Fins' logo, a clear inducement to get Plaxico on the team. Also dropping're a plethora of shorts, ranging from boat-preppy seersuckers to the more alternative "Lounge" shorts (vertically striped w/ images of famous classical sculptures), which were designed to be "something light for swimming or just lounging at the strip club", or if you're Michael Phelps, "Tuesday afternoon".
Additionally, LR's got a glossy, lightweight slicker available in black or bright aqua, with a single diagonal chest pocket and tuck-away hood, plus a lone white, epauleted buttondown -- classy, but hey, if you wanna start dicing your mom's friends' change, you gotta get in the door first.