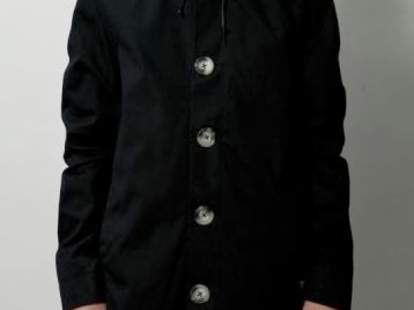 Nature inspires people to create wondrous things, like intensely personal lyrical poetry or, failing that, bombs you can send through the mail in order to gain a catchy nickname. And also clothing, if you're Lifetime Collective.
Created by a BC-based crew of international artists and designers that started as a 2-man, DIY basement t-shirt operation, this icily-monochromatic line of colder-weather gear is informed, like all their drops, by a "passion" for skateboarding, snowboarding, and music in general, and more specifically by the contrast between rock and snow, who's really just grateful for any chance to play "Informer". Outerwear includes the urbanized field-jacket-style Rebels w/ LC's crossed needle logo on the sleeve; the lumberjack-ish Cold Criminal shirt-jacket, with two chest-pockets; and the hooded black leather Super Genius, but not a Super Genus, because that's Tyrannosaurus. Other torso-toppers include sweaters (the heavy-knit nordic-style Kiruna hoody), sweatshirts (the shawl-collared track-jacket-style Tripwire), and wovens like the casual Rico Suave blazer w/ three-button-closure, which, given his freshly waxed chest, is three more than he needs.
LC's also got a full range of denim, and're sticking to their roots with a line of tees including the comic book-ish zombie-arted Party with Death, and the pastel-splashed triangle boasting Rad Mountain, also what Teddy K. called any mountain that didn't have a road, or people, or back-stabbing birds who eat from bird feeders. Sell outs!