Combining forces can result in great things, like five mechanical super-lions uniting to form Voltron, or Captain Planet and those bomb-ass Planeteers other stuff. Representing the unified front of six ATL restaurateurs, Pizzeria Vesuvius
Nestled into the lofty former Bureau space, Vesuvius is a wood-fired pizza dine-in & delivery joint with upstairs seating for 60 at paper-covered tables and a winding, shiny tile/wood bar, plus a downstairs grotto functioning as a private event room with a DJ booth; the whole deal's a collaboration between six partners who've previously run popular local restaurants -- Bureau, Sotto Sotto, Noni's, Grant Central, and Thumbs Up, which apparently didn't get one from the guy who left to start this place. Non-pizza includes herbed chicken minestrone (w/ tomato, zucchini, squash, red onion), chili, sandwiches on homemade pitas, like house-smoked turkey (w/ onion, applewood-smoked bacon & cran-jalapeno mayo), and garlic/cheese/olive oil Bread Stick Things, in which Denise Richards totally makes out with a hoecake. They'll let you get nuts and build your own pizza or calzone using four cheeses (mozz, sharp cheddar, feta, queso fresco), 15 veggies (caramelized onion, red/green peppers, arugala), and eight meats (seasoned ground beef, roast pork, house-smoked ham...), and you can also nab predetermined pies like the Ring of Fire (w/ GA rock shrimp, onion, red pepper, spicy cocktail sauce), or the cheddar /onion/bacon/ground beef Big Southern Butte, which will foretell your future as you eat it
Recommended Video
This Is Colorado-Style Pizza
For your imbibing pleasure, there's red & white vinos, and 14 beers: seven in bottles, including Sam Adams Summer, and seven on tap, like Hoegaarden, 420, and Hennepin -- after a few, you'll feel like the power is yours; a few more, and your skin will turn blue.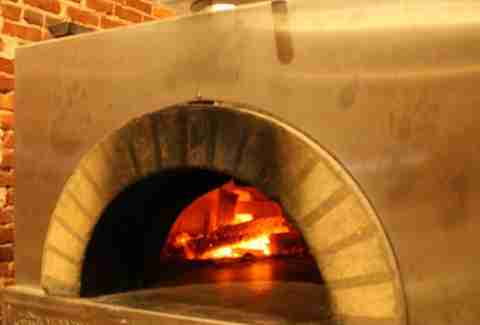 Previous Venue
Next Venue
Venue Description
1. Pizzeria Vesuvius
327 Edgewood Ave, Atlanta, GA 30312
Nestled into the lofty former Bureau space, Vesuvius is a wood-fired pizza dine-in & delivery joint with upstairs seating for 60 at paper-covered tables and a winding, shiny tile/wood bar, plus a downstairs grotto functioning as a private event room with a DJ booth; the whole deal's a collaboration between six partners who've previously run popular local restaurants -- Bureau, Sotto Sotto, Noni's, Grant Central, and Thumbs Up, which apparently didn't get one from the guy who left to start this place.