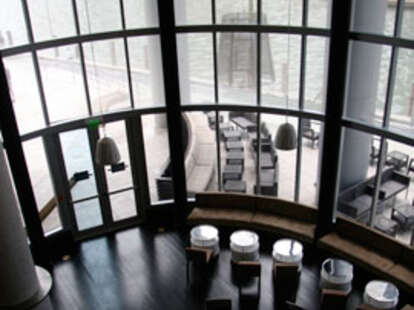 Sometimes it's all about the view, whether it's the window seat of an airplane, a front-and-center spot at a finer gentleman's club, or a back-row slot at the company team-building meeting. For a place whose view lets you see...everything, hit River Lounge at the Epic Hotel.
RL sits inside fishbowl-like 30-foot windows and faces out over the mouth of the Miami River, across from the Miami Circle, and under all the new towers of Brickell and Downtown -- offering so much to look at, your date might even tear her eyes away from her BrickBreaking, but probably not. Outside there's a riverbank patio with docking area, and inside, high ceilings and espresso hardwood floors house a circular bar in the middle, a nookish area in the rear, and a playful loft balcony overlooking everything, replete with banquettes curvy enough for Dr. Seuss, and zebra print carpet zebra-y enough for your banana hammock. The drink menu bifurcates into classics with a twist, like the Pear Manhattan (Knob Creek, Xante pear liquor, & Cinzano), and the Pomegranate Julep (Gentleman Jack, pomegranate juice, fresh mint leaves, & simple syrup), and more experimental stuff like the Amante Picante (Patron Reposado, agave nectar, cucumber slices, cilantro, fresh lime juice, dash of Green Tabasco) and a lovely number with TY KU Sake, citrus liqueur, sour mix, fresh pears, and agave nectar called the Blushing Geisha, whose memoirs are scrawled on cocktail napkins.
In the next couple weeks River'll enjoy a special bar menu provided by Area 31 (the resto on Epic's 16th floor), with small-plate stuff like Padron Peppers (lightly fried peppers with olive oil), acorn-fed Iberian pork shoulder palettas with Manchego, and a citrus soy, sweet onions, and sesame offering called Tuna Poke -- serendipitously sharing a name with a certain gentleman's club show for which you wanted a front-and-center seat.