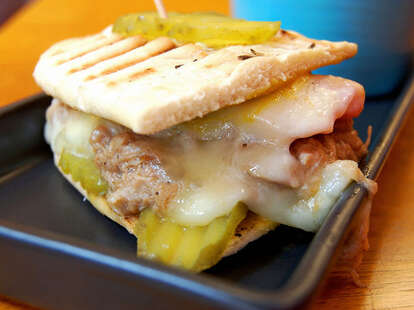 It's interesting when someone brings high-level training to a simpler task, like a neurochemistry PhD teaching high school bio, or a high school gym teacher teaching 6th grade gym, cause Tony's on a Carnival cruise, that sonofab*tch! For a lunch spot from guys with big-resto-level food cred, hit Sandwich Bar.
Run by a couple Latin dudes who did some serious chef-ing at Sardinia and Cioppino's on Key Biscayne, SB's a boutique-sized sandwich spot serving classic lunch grub that's elevated thanks to its owners' training, and boasting a bohemian Latin vibe (island music on the soundsystem, futbol on the tube), free WiFi, and a mirror with the menu written on it -- way better than a menu with "mirror" written on it, cause no one wants to order a mirror in an upscale sandwich shop. Leading off're salads like the Carpaccio with thin raw beef and shaved Parm over organic arugula w/ olive oil & lemon, and the Sandwich Bar with marinated artichokes, ham, shaved Parm, and baby greens, plus daily creamy soups like a dark portobello, zucchini basil, and chickpea -- which always involves bringing at least one friend, and talking about other girls being sluts. Fairly classic yet elevated sandwiches come on your choice of baguette or ciabatta, with standouts like the roast beef (roasted in-house with their own spice blend) w/ melted provolone and house-made mayo; the Sandwich Bar, with braised short rib, caramelized onions, provolone, and Muenster; and one with honey mustard and free-range turkey breast called the Athletic Club, which both protects your car from theft, and can easily chase down anyone bold enough to try.
SB's awaiting a beer/wine license, and they also specialize in Hawaiian ice, shaved to the consistency of fine sand so it holds more flavor, then soaked in organic syrups like tangerine, cantaloupe, kiwi, and honeydew, which you just know Tony has drinks full of on that cruise -- it's all-inclusive! That bastard!! Great guy, though, Tony.