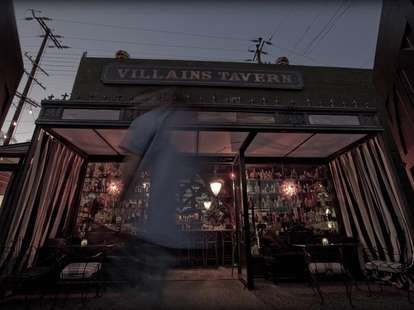 There is nothing more fulfilling than striking out on your own, which explains why Matt Kemp's always so psyched. For a bar from a lady who also struck out on her own, check out Villains Tavern, opening late Thurs night
VT''s a new downtown bar that's straight up Daniel Plainview-esque: two monster, church-pew abetted patios, an antique bar sourced from an 1880s-era NYC tavern, and a gothic church window repurposed as a mirror behind the bar, all from a woman who started out as an interior designer before getting deeper into the action as the owner of spots like 4100 and The Bordello Bar, which is set higher here than in Tijuana. Booze's from a former Seven Grand guy, w/ a tightly curated beer & bourbon list as well as fresh-ingrediented cocktails like the "Bella Donna" (bourbon, mint, citrus, and blackberries); the gin/ mint/ cucumber/ citrus "Hanzo", and the gin-infused hibiscus sour "Stan Lee", which tourists will... Marvel at, since they don't sell them in... DC. Yep, two comic puns! Grub is fancified bar classics, like a Dog w/ whole grain dijon, braised red cabbage, olive tapenade, bacon, and cheddar; a grilled cheese w/ cave-aged cheddar and onion-chili-tamarind sambol; and a 1/2lb Kobe burger w/ balsamic and sour cherry spread, plus bacon marmalade, which, unlike bacon Marmaduke, only teaches your arteries a lesson.
They'll soon also have live entertainment, and're offering up sweetness for anyone who mentions Thrillist their opening week: $1 off your drink, and a chance to win a ridiculous, $999 folding bike from Dahon -- transportation that can help you avoid your landlady, by making it much easier to Dodge-her.