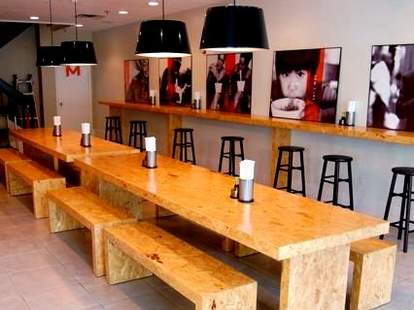 Eventually, a man needs to get his own place, as proof that he's grown beyond the yoke of adolescence, or just pissed on his roommate's bed one too many times. For a restaurateur setting up his very own shop, check out Wok-Town.
From a guy who ran operations at Miss Yip and Domo Japones before deciding to strike out on his own, Wok-Town's a counter-service Asian eatery serving lunch and dinner from a menu of healthy pan-Asian favorites in a clean, modern space, with sturdy communal tables and benches made of recycled compressed wood -- sit on it while wearing skinny jeans and thinking about Susan Sarandon in The Client, and you'll match the seating. Things kick off with the "Start To Wok" menu section, with soups (hot & sour, eggdrop), chicken or pork gyoza either wok-fried or steamed, salads like stir fry miso beef, and a blend of chicken, water chestnuts, mushrooms, celery, and carrots wrapped in iceberg lettuce -- thank anybody who recommends it for giving the tip of the iceberg. Bigger dishes include grand bowls of noodles like the spicy Singapore Style Curry with thin rice noodles, peppers, and onions (tossed with options like beef, or a combo of shrimp & salty strips of BBQ'd pork), and a Choose Your Own section where you pick a main ingredient (veggies & tofu, pork, chicken, beef, crispy shrimp) and then your prep style, including coconut curry, orange chili scallion, or honey garlic-pickled ginger style, but good luck affirmatively deciding if it's hotter than Mary Ann style.
From 11am-5pm, Wok doles out a $9.95 lunch special (large dish, side of Asian coleslaw, soup, or spring roll), and they also have stuff for your sweet tooth, like lychee fruit, mango sorbet, green tea ice cream, and a house specialty, Wok Town bubble tea: a sweetened, creamy iced tea with little chewy tapioca pearls that, if you drink them through a straw, careen into your mouth, much like your roomie's fist right before you decided it was time to spread your wings.