10 Adorable Bar Dogs from Across the Country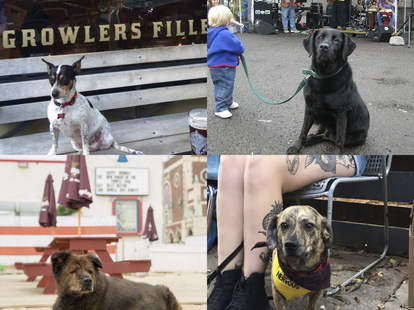 Liza Darwin / Gary Geist / Meg McCann / Debbie DeLisa
If you're a dog owner, perhaps the worst part about going out to a bar with friends is leaving your favorite tail-wagger behind. But dog-friendly bars all over the United States solve that problem nicely, and allow for inebriated patrons to pet cute pooches that don't belong to them without seeming too weird. Some bar dogs even help the owners of the establishments keep things in order. Here are 10 canine regulars that will make you want to become drinking buddies with a neighborhood pub pup immediately.
Leah Konen
Farley
Keegan Ales, Kingston, New York
Tommy Keegan founded Keegan Ales in 2003 after buying an empty building in Kingston, 91 miles north of New York City in Hudson Valley, that contained a defunct brewery. In addition to its award-winning brews, Keegan Ales has a bar and restaurant with an outdoor space that's perfect for roaming pups like bar regular, Farley.
Name: Farley
Breed: Jack Russell Terrier mix
Favorite hangout: "He enjoys the sun and any place where he can say hi to every single person who attempts to walk in the door. He always prefers people to dogs," Farley's owner Leah Konen says.
Favorite food: Cheese, "or whatever we happen to be eating at the moment that he knows he can't have."
Favorite toy: Pink elephant
Dislikes: The UPS guy, squirrels, birds
Worst habit: Jumping up to kiss people.
Larissa Varges
Lupe
Tradesman, Brooklyn, New York 
This Brooklyn spot allows dogs in the large, well-appointed outdoor space (except during brunch hours on weekends), which also has plenty of seating for humans. But co-owner Larissa Varges adds, "We ask folks keep leashes on for those who are not fuzz lovers."
Name: Lupe
Breed: Australian Cattle Dog (rescue)
Favorite food: "She loves leftover bacon from brunch (I know, very spoiled)," Varges says.
Most useful trick: "She is very helpful with the gardening!"
Favorite pastime: "We like to say she break hearts. She's very shy and takes a while to really love you, but when she recognizes a regular or a friend, she is all excitement."
Worst habit: "Piercing barking."
The Morrison
Luna
The Morrison, Los Angeles, California
A laid-back pub in Los Angeles' Eastside, The Morrison specializes in burgers and has an extensive list of beers and whiskeys, along with craft cocktails. Dogs get their own menu, including chopped hamburger beef with rice and chicken with rice, each $6.
Name: Luna
Breed: "A rescue of unknown mix, but Maltese and Poodle for sure," says Morrison spokesperson Laura Gimbert.
Favorite food: Anything
Worst habit: "She loves to be on your lap, way too much!"
Liza Darwin
Monterrey
Bed-Vyne, Brooklyn, New York
A bar in Bedford-Stuyvesant specializing in beer and wine, Bed-Vyne also happens to be located near a dog park. While the venue gets rowdy on weekends with DJs, during the day, its outdoor patio is an ideal spring and summertime hangout for dog owners like Liza Darwin and her pup Monterrey (pictured on the left with his best friend Seymour on the right).
Name: Monterrey, or "Montie for short," says Darwin.
Breed: Rescue mix. "We were told Miniature Pinscher/Chihuahua, but we think she's actually a Rat Terrier."
Favorite toy: Kongs or a squeaky plush sandwich toy
Dislikes: Baths, water (in general), sharing food, small animals like rodents
Worst habit: Eating scraps of food off the street.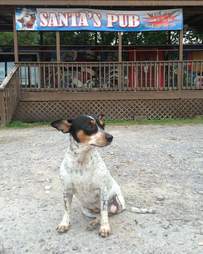 Liza Darwin
Emma
Santa's Pub, Nashville, Tennessee 
An out-of-the-way karaoke bar located inside a trailer that still allows smoking, Santa's Pub is not exactly an ordinary dog bar. But the porch and parking area offer refuge for pooches looking to get away from the smoke and patrons belting Dolly Parton.
Name: Emma
Breed: Rat Terrier rescue
Distinguishing characteristic: Three legs
Favorite food: Leftover steak
Dislike: "Her main dislike is that she can't jump on the sofa like Zelda, our other (four-legged) dog," says her owner John Darwin.
Meg McCann
Grim
Spider House, Austin, Texas 
An eccentric cafe and dive bar, Spider House has been serving Austin locals since 1995. In addition to a roomy interior, the colorful outdoor patio is decorated with Christmas lights, antiques, garden statues and even swings. It is a wonderland for both human and canine guests.
Name: Grim or Grimace
Breed: "We were told Grim is a Dachshund mix, but we have no idea," says Grim's owner and Spider House's lead server Meg McCann. Favorite food: Blueberries
Favorite toy: Stuffed Tito's vodka bottle
Dislike: "Dogs bigger than him because he likes to be in charge."
Can be found: Snoozing in the sun.
Worst habit: "Hoarding Q-tips in his crate."
Debbie DeLisa
Bear
Wonder Bar, Asbury Park, New Jersey 
A hangout in the New Jersey vacation beach town Asbury Park, Wonder Bar caters to humans and dogs alike looking to bask in the sun. Its popular "Yappy Hour" specifically targets canines every day during the summer and four days a week in the off-season, with swimming pools for pooches on the deck.
Name: Bear
Nicknames: Bearsie or Wearsie
Got his name because: "He looks like a big brown bear," says Bear's owner and Wonder Bar's bar manager Debbie DeLisa.
Favorite food: Swiss cheese
How he became a part of the Wonder Bar family: "Bear showed up during an ice storm in 2006. He was at the front door at 3:30 in the morning when the staff and band were leaving. He was wet and freezing, with a broken chain dragging behind him that was also embedded in his neck. The police were called but did not recognize the dog, so of course we took him in."
Worst habit: "Lying on the floor when the customers are ready to come in and refusing to get up."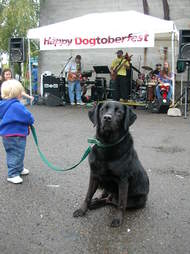 Gary Geist
Oscar
Lucky Labrador Brewing Company, Portland, Oregon
A brewery and brewpub with four locations throughout Portland, Lucky Labrador puts its furry mascot front and center in its logo. Gary Geist and Alex Stiles started the business in 1994 and have maintained a casual, hip atmosphere. Patrons can enjoy the brews inside and take their dogs into the outdoor spaces at all locations.
Name: Oscar
Breed: Labrador
Favorite food/toy: Dog bones
Can be found: Overseeing operations of all Lucky Lab brewpubs.
Bad habits: "None. Just being a happy dog," says owner Gary Geist.
Joyride Brewing Company
Prango
Joyride Brewing Company, Edgewater, Colorado
A small brewery and brewpub opened in 2014, Joyride sits just outside of Denver with views overlooking Sloan Lake. Started by three friends and homebrewers, it produces a little over 1,000 barrels a year, including the favorites, Ice Cutter Kolsch and Joyride Double IPA. Dogs can indulge in treats and water bowls served by the staff.
Name: Prango Mangus Cribbet
Nicknames: Pringles, Prego Sauce
Breed: Airedale Terrier
Favorite toy: Sticks
Dislikes: "Weak-willed men, lying and skim milk, which is water lying about being milk," says Prango's owner, Mark Cribbet.
Worst habit: "Yelping when you get home from work."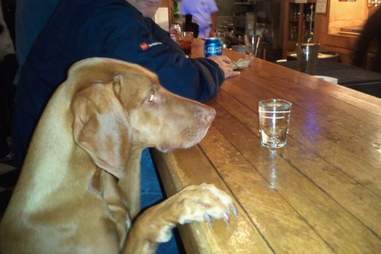 Cody Speer
Rusty
Duchess, Seattle, Washington 
Duchess is a Seattle landmark, having been around since 1934. The no-frills bar caters to local sports fans (it's a popular joint for watching Washington Huskies games) and dog owners alike, though you might want to be careful about your pup digging into the pizza.
Name: Rusty
Breed: Vizsla
Origin story: He was an early Christmas present delivered to his owner, a Duchess bartender, at the bar.
Favorite food: Pepperoni pizza
Can be found: Begging for treats.
Worst habit: Going behind the bar.