You may not be able to teach an old dog new tricks, but luckily for us, that mentality never caught on in the ever-evolving world of spirits. While gin has experienced fluctuating degrees of popularity over the centuries, it has certainly seen a mounting revival in recent years. And it's safe to predict that the trend isn't going away any time soon.
But don't confuse classic with boring. There are plenty of daring distillers the world over working to refresh, reinvent and reimagine this timeless spirit. From eccentric ingredients and eyebrow-raising flavor combinations to unbelievable distilling techniques, here are six innovative labels to keep on your radar.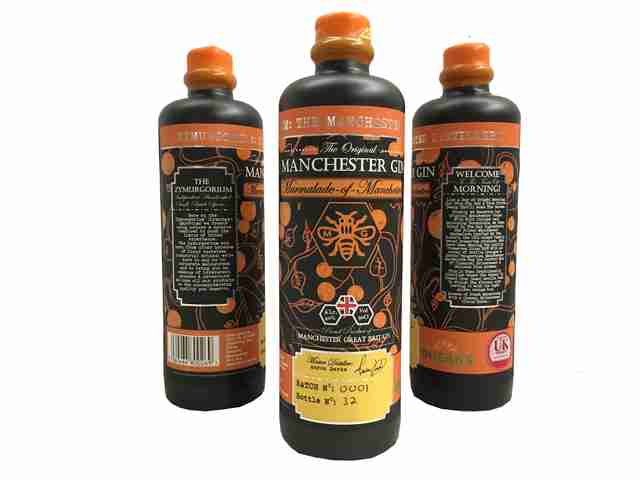 What happens when the United Kingdom's first craft meadery decides to join forces with their jam-making neighbors? Just ask the team of distillers at Zymurgorium. They partnered with Duerr's, a time-honored English company known for their selection of preserves, to create their Marmalade-of-Manchester gin. The quirky collaboration lends itself to a zesty, citrusy concoction ideal for anyone with a sweet tooth. Some of the prevalent notes include lemon, lime, tangerine and bergamot, but they're pleasantly offset by hints of violet, coriander and grains of paradise. For a sweet treat, give it whirl in one of these top gin cocktail recipes.
While it may seem peculiar for one of the world's most renowned tea suppliers to venture into gin production, the East India Company has a damn good reason that traces back to the 1800s. As it turns out, soldiers from the East India Company actually invented the Gin & Tonic that we all know and (mostly) love today, after they added their gin rations to quinine and tonic water to prevent malaria. Today, the 400-year-old company celebrates this legacy with this smooth and clean London Dry style gin that features 12 botanicals, such as Indian long pepper, cocoa and mango.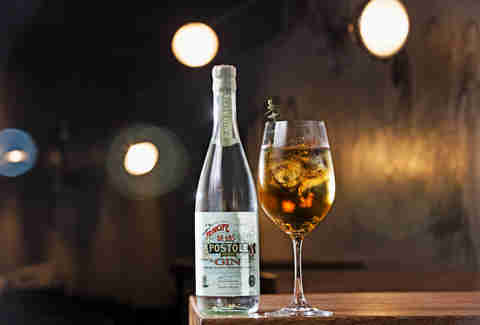 Argentina is known for many things—tango dancing, top-notch steaks, award-winning wines—but pretty soon, we may need to add gin to that list. Apóstoles is one of the first premium gins to come from the country, and it's the brainchild of Renato "Tato" Giovannoni, celebrated mixologist and owner of Florería Atlántico in Buenos Aires (one of the World's 50 Best Bars). The blend combines locally grown botanicals such as juniper, coriander, peppermint, eucalyptus and pink grapefruit, and is also infused with yerba mate: a strong, bitter tea that's consumed fervently in many regions of South America. The final result is a bright, aromatic elixir that authentically captures the spirit of Argentina.
When you think of spirits produced by Japan, you probably envision traditional sake rice wines or maybe even their new age, inventive whiskeys—but definitely not gin. That didn't stop The Kyoto Distillery from launching the country's first dedicated artisanal gin distillery. Taking a page from the sake playbook, the novel gin starts with a rice spirit base, which is then brought to life with local ingredients not typically spotted on gin labels. Think exotic botanicals like yuzu, bamboo leaves, sansho pepper, Gyokuro green tea, Hinoki wood chips and ginger. It may sound strange, but it makes for a crisp and multi-layered spirit that is perfect to sip neat or swap into a classic Martini.
The name Martin Miller should ring a bell for any true gin aficionado. The team was at the forefront of the gin renaissance in the late 1990s and is still consistently recognized by the world's leading awards and judging panels today. But nearly two decades after launching their signature spirit, the trio behind Martin Miller decided to push the envelope yet again by creating 9 Moons. Their newest blend comes from Iceland, where the gin is cask-aged in American oak bourbon barrels for a total of nine months (or nine moons). The unique process imparts a subtle sweetness that ultimately intensifies the notes of bright citrus and warm vanilla to give it a warm, long-lasting finish.
For a gin that's literally out of this world, look no further than Moonshot Gin. You see, every single gram of botanicals used to make each bottle has been physically launched into space. Yes, you read that correctly—the chamomile flowers, cubeb peppers, dried bitter orange peel, angelica, cinnamon...all of it. They even add some lunar meteorite moon rock into the mix for good measure. After returning to earth, the ingredients are vacuum distilled at room temperature. Is it all a bit gimmicky? Sure. But does it make for a delectable tipple, awesome conversation-starter and unforgettable gift? No doubt about it.