19 Totally American Drinking Experiences You Need to Have at Least Once
Drinking like an American doesn't necessarily mean slurping down red, white and blue slushies (although it certainly can). This great land of ours is filled with uniquely American spirits, cocktails and drinking experiences. Before you defect to Canada, make sure you check off each one of these:
It doesn't matter where you are in America—a big city, a suburb, a shack in the woods—there is almost certainly a dive bar somewhere nearby. Comfortable, dirty and cheap, there is nothing quite like having a shot and a beer at a good dive.
Drink Bourbon
You know it, you love it, and while it isn't quite the OG American spirit you might think it is (George Washington was drinking rum, not bourbon) it has become the liquid expression of the U. S. of A. Drink it neat, drink it on the rocks, drink it in a Whiskey Sour—just be sure to drink it.
Drink Cake Vodka
Flavored vodka is not an American invention (people were flavoring vodka long before America was a gleam in the founding fathers' eyes) but gimmicky, absolutely insane flavored vodkas are as American as it comes. If you need some ideas about how to actually make a drink with cake vodka, we have some ideas.
Drink Something Blue
Americans love blue drinks. Ever since the Blue Hawaii first hit tiki bars back in 1957, we've been captivated by azure-hued cocktails largely made with blue curaçao. You don't have to love tropical cocktails to imbibe something blue, though. You could also try something smoky and strong like this blue mezcal cocktail.
Drink a Cheap Margarita at a Chain Restaurant
The Margarita is America's favorite cocktail, and there's no place more American to enjoy one than at a chain restaurant. Will it be the best Marg of your life made with fresh squeezed lime juice and agave syrup? Probably not. It will probably be massive and brightly colored and possibly flavored with some sort of trendy fruit like acai berries. But it won't cost you much and it will go perfectly with whatever fried monstrosity you ordered as an appetizer.
Go to Happy Hour
Unless you live in Boston (sorry!), happy hours are an after-work rite of passage that everyone must experience. Grab a half-price beer you would never usually order and a platter of nachos, and unwind after a hard Tuesday.
Do Tequila Shots with Lime and Salt
If you head down to Mexico, you'll likely see folks drinking tequila straight or mixing it into a Paloma. Drinking it as a shot with lime and salt is an all-American tradition. And while we usually recommend you lay off the shots and try actually enjoying good tequila, your experience as a drinking adult in the U.S. would be incomplete without at least one tequila shot.
Drink in a Speakeasy
Not only does drinking in a modern speakeasy pay homage to America's Prohibition era (when many great cocktails were made in secret, underground bars), but it also acknowledges the country's obsession with nostalgia. Order a Scofflaw from a mustachioed bartender wearing arm bands and toast the American tradition of toasting the good old days.
Drink Something Named After an Internet Meme
Tell someone to hold your beer, then break out a bottle of #RoseAllDay or order an Aloha Felicia and know that you're living your best life and everyone else can just deal with it.
Americans love to gamify anything and everything—drinking most certainly included. And the most quintessential drinking game that every self-respecting drinker needs to play at least once in their lives is beer pong. Play it with your hands or play it with paddles—it's up to you.
Drink a Red Bull Vodka
This energy drink cocktail might as well be called an American. It has an acquired flavor, but the effects are undeniable. For double points, order a way too expensive one from a disinterested bartender in a way too loud club.
Go to a Bottomless Brunch
Over the course of the past decade or so, bottomless brunch has become a Sunday tradition. It's not enough for us to roll out of bed and into a pile of pancakes and a Bloody Mary or two. We need to go hard—even on a Sunday. Epic bottomless brunches have become the norm, and if you haven't ruined a Sunday with one too many Mimosas then you can't call yourself an American drinker.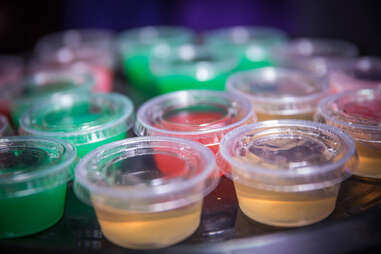 You don't have to be in college to enjoy a good Jello Shot. You can have a really good one made with fresh ingredients that actually tastes great—it still counts. Take your pick of a Margarita Jello Shot or a Moscow Mule Jello Shot or kill two birds with one stone with a Blue Hawaii Jello Shot.
Drink Applejack
Do you know why Johnny Appleseed was actually planting all those apple trees? It wasn't for pies. It was to make applejack. Essentially apple brandy, applejack was hugely popular during Colonial times and is starting to make a comeback today. The spirit is great straight, but it's also particularly good in drinks like the Jack Rose and the Honeymoon.
Though the drinks channel Polynesia and the Caribbean, tiki culture is American to the core. It's kitsch. It's complicated. It's ornate. It's wearing a Hawaiian shirt while drinking out of a flaming fish-shaped goblet. It's great.
Drink a Bloody Mary Garnished with an Entire Meal
Though the Canadians are now creating their own buffet-topped Caesars, we Americans were the ones to normalize topping Bloody Marys with full roast chickens and king crab legs. It's efficiency and excess packed into a single Mason jar.
Instagram Your Cocktail
Pics or it didn't happen. Get your friend to light you from behind a light-diffusing napkin and snap a shot of your gorgeous cocktail before you even take a sip. Then upload it to Insta and watch as the likes roll in. It's totally worth alienating your fellow barflies.
Run a Beer Mile
A beer mile is a race that combines physical exertion and drinking. You chug a beer, run a lap, chug a beer and repeat until you've run a full mile. You've also quite possibly thrown up. But after you do it once, you never have to do it again.
The first official cocktail, the Old Fashioned is a basic mix of whiskey (or brandy, if you're in Wisconsin), sugar and bitters. It is simple. It is good. It is American.