The 11 best Boozy Brunches in Amsterdam
Amsterdammers are finally getting into brunch. Sure, sure, good food is always a thing in the land of organic locavores -- but more and more places around town are finally starting to realize that the eggs Benedict taste better served post noon... and washed down with breakfast cocktails. Here are the 11 best spots in town to get your boozy, American-style brunch on.
Various mothly popups
Brunch served: Check the site for times
Hosting monthly popups at locations around the city, B&M have some of the best Bloody Mary's in town. Other brunch cocktail classics are also on the menu, but trust us, this is what you want. And for the Québécois (and fans): they recently added poutine to the menu.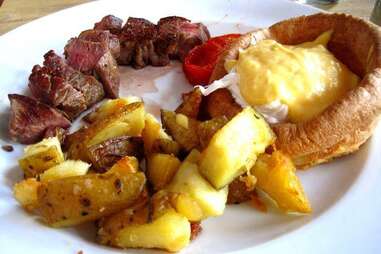 Oud-West
Brunch served: Thurs 11am-5pm, Fri-Mon 11am-7pm
On those days you feel like 2pm is just too early to get out of bed for brunch, Staring at Jacob has you covered with brunch until 7pm, five days a week*. The brunch is "California style", which apparently means healthier takes on American meals running the gamut from French toast and omelets, to pork belly and fish tacos. With cocktails. You know, for your health.
*Okay, make that four days, because Thursdays now end a little earlier to make room for The Beef Chief's delicious burgers. Expect more food truck and pop-up names to take over other evenings.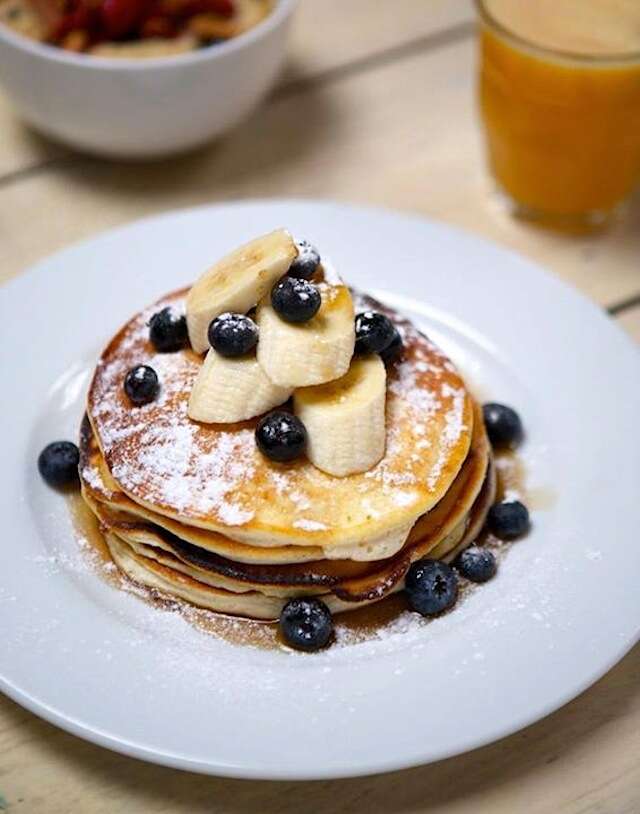 De Pijp
Brunch served: Mon-Fri 8:30am-4pm, Sat & Sun 9:30am-4pm
Just renovated this summer after one year in business, this New Zealand-style café lets you egg your way around the world, from the Kiwi Brekkie to Navajo Eggs to Eggs Florentine, plus sample other sweet and savory brunch classics. Replace your coffee with the Ozone Espresso Martini, and wash it all down with make-your-own mimosas in orange passionfruit flavor.
De Pijp
Brunch served: Wed-Fri 10:30am-4pm, Sat & Sun 9am-4pm
We haven't gone far in location or theme: this brunch fave in De Pijp is Aussie-based. Expect a warm Australian greeting when you arrive in this sleekly cozy café along with Melbourne favorites like kedgeree (smoked mackerel with saffron rice) or bangers & mash. Plus? There're four types of Bloody Marys, incl. the Tokyo version, spiced up with ginger, wasabi, and rice vinegar.
Jordaan
Brunch served: Fri 11am-3pm, Sat & Sun 10:30am-4pm
Brunch boat: Sat & Sun 11am-1pm, 1:30pm-3:30pm
As this place used to be called "G&T's Really Nice Place" you know this spot's got some killer cocktails -- if you're into seafood, get the Bloody Caesar served "slutty" (meaning it has a clam on top), and if you're not, it's hard to turn down the Faberyayo Bourbon Peanut Butter Milkshake. Or go all in with "The Hungry Drunk"; any of the brunch menu classics with four (!) Bloody Marys for €30. You can also take your brunch to the canals with G's brunch boat. The menu selection is a little more limited -- but, hey, you're on a boat! (Cue Lonely Island.)
Staatsliedenbuurt
Brunch served: Sat & Sun 10am-3pm
A totally different take on brunch, this gezellig, glass-walled island in the middle of a giant terrace/children's playground builds its menu around one dish: shakshuka, a sauced-up veggie stir fry topped with eggs. Skip the underwelming green version (with spinach and feta) in favor of the original tomato-and-onion spiciness, then pair it with something from the fully loaded bar.
Oosterparkbuurt
Brunch served: Sat & Sun 12pm-4pm
This brand-new burger, lobster, and beer place is even better than we expected when we previewed it back in June: it looks awesome, it has a sweet terrace, and the food is great. And as of October, it's gotten even more awesome by offering brunch. There are some eggs, and some blueberry pancakes, but most of the menu is still its signature dishes of meat-and-lobster-based fare (plus beer cocktails).
De Pijp
Brunch served: Sun 11am
Ctaste is Amsterdam's dining-in-the-dark experience, and brunch is no different. After you turn up in the plush arrival lounge, your waiter (who's always blind) will lead you to your table in pitch-black darkness, where you will learn to pour yourself drinks by feel and try to identify your four courses of brunch food (for only €25) before giving up and asking your waiter what the hell you just ate.
Western Islands
Brunch served: Sun 10am-2pm
Obviously the name is a joke waiting to happen -- in Dutch, though, it just means "sausage", which is what this deli-chic wine bar is known for. Seating you right at the kitchen counter, your chef will prepare (actually kinda healthy) international brunch dishes like German muesli, huevos rancheros, and buckwheat crepes right in front of you. You can also nab some Bloody Marys and even apple cider.
RAI
Brunch served: Sun 11:30am-2pm
Selling you dining by the (two or three) hours, this "all-in" buffet is too classy to call itself "all you can eat", but still boasts a gut-busting spread of eggs, oysters, sushi, sandwiches, and more. Plus a chocolate fountain for dessert. And Prosecco, lots of Prosecco.
Noord
Brunch served: Mon-Sat 12pm-2pm, Sun 10:30am-4pm
Just a few blocks from Noord's central ferry, this brunch runs for two hours each day (longer on Sunday) -- because it's literally running on borrowed time... from Café Modern, whose citified country-style digs set the stage for poached eggs, lobster, steak tartare, etc. Overall, you get the feeling the whole thing is put on by your especially stylish aunt (in a good way) -- assuming your aunt dishes out glasses of Crémant and killer cocktails.